Editor's Note: The following article is reprinted from Macworld UK. Visit Macworld UK's blog page for the latest Mac news from across the Atlantic.
New iPad application iSwifter aims to bring to Flash-based gaming to Apple's tablet based computer. According to YouWeb, the team behind the free app, iSwifter is the industry's first cloud-based Flash game streaming service specifically built for mobile devices including smartphones and tablets.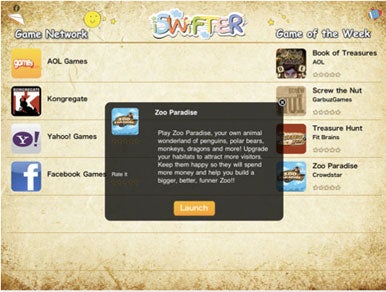 "iSwifter brings you popular games from the biggest online gaming portals such as Yahoo Games, AOL Games.com, Facebook, Kongregate and others," the makers claim.
iSwifter works by acting as a conduit between iPad and gaming sites, running the game on their own server and streaming a compatible version to the iPad.
"Low-cost servers in the cloud run abstraction software that intelligently converts browser-based Flash games to a form that is optimized for individual mobile devices, complete with multi-touch gesture support for game interaction, and accommodating different screen sizes," YouWeb adds. "A client app connects to the gaming servers in the cloud to download streaming content live to the mobile device."
iSwifter is currently supported over Wi-Fi only. An update with a much improved performance is promised soon. The company also has plans to develop versions for Android and Windows 7 based smartphones.