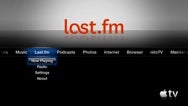 aTV Flash, Fire Core's feature-full media center add-on for the Apple TV, widened its music options on Tuesday with the addition of Last.fm, CBS's music social network that predated Apple's Ping by a few years.
The major addition in aTV Flash 4.2 is a new, official app for Last.fm, the music social network and discovery service that CBS bought in 2007. aTV Flash users can now stream Last.fm radio (subscription required) and check out artist bios and artwork on their Apple TVs. Of course, all played tracks will be "scrobbled" back to users' Last.fm accounts to better inform the service's music recommendation engine—it's a vicious cycle of perpetual music enjoyment.
Also new in aTV Flash 4.2 are improved weather forecast layout and icons, updated plugins (Sapphire, nitoTV, and Maintenance), and performance improvements.
The new Last.fm app joins aTV Flash's myriad media features that it adds to the Apple TV, which include Boxee, support for additional media formats (AVI, WMV, and more), a Web browser, adding media from outside of iTunes, and access to even more apps and widgets built just for the Apple TV environment.
Existing aTV Flash 4 users can update from the Maintenance menu on their Apple TVs. Interested new customers can order aTV Flash for the current generation Apple TV for $50 from Fire Core's site. aTV Flash 4.2 only works on the older (hard-drive-based) Apple TV models, but It is worth noting, however, that Fire Core has announced its plans to get aTV Flash to work on the new Apple TV, which should be shipping soon.