Photo Shootout, a photography game from Man Mountain Productions, puts you directly in the shoes of a professional photographer as you learn essential camera skills.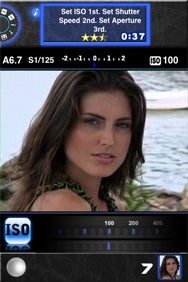 Photo Shootout seems to be targeting those already familiar with SLR — that's "single-lens reflex" to the uninitiated — photography, so it's tough to determine whether the tutorial is supposed to bring amateurs up to speed or dumb things down for professionals.
The game doesn't use the iPhone's built in camera, but instead offers a photography simulator with photo taking, "selling," and other photo-related trappings. The app walks you through ISO, shutter speed, and aperture adjustment skills, all by swiping a dial left or right until the exposure scale at the top of the screen hits "0" for a perfectly exposed image. You're tasked with photographing family moments and random, interesting objects, adjusting one setting per tutorial to keep things simple.
When you've completed your training, you can move onto "Professional Assignments," where you must adjust all three components at the same time to set up the perfect shot. Hints appear at the top of the screen, reminding you that a high ISO creates a grainy image and such.
What's interesting, and maybe a little disconcerting, about the professional shoots is that, where before you were shooting family portraits and swim meets, the only choices now are "beauty" or "swimsuit" shoots. A one-minute video of a hot model vamping for the camera plays while you set up the shot and then start clicking away. Not that this subject doesn't have mass appeal, but it may have been nice to include one other genre that didn't involve semi-clothed women.
Once you run out of time or fill up your in-game memory card, you can scroll through the shots and see what you want to put in your portfolio. Your "agent" will sell the photos for magazine spreads, product packaging, etc. You can take the proceeds to the camera store to buy better equipment for more valuable photos or buy more interesting assignments, though "Buy Assignments" won't be available until a future update of the app.
While the limited photo shoot options are a major drawback, Photo Shootout is an otherwise gorgeous game, with crisp graphics, simple controls, and an undeniably unique premise.
Whether it appeals to non-photographers is up for debate, but for $2 it gives a glimpse of that world to anyone.
[Meghann Myers is a frequent contributor to Macworld.]