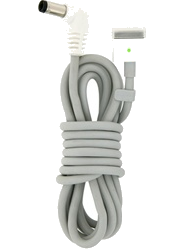 We've covered Sanho Corporation's accessories for Macs and iOS devices in the past, and apparently they haven't escaped Cupertino's notice, either. Earlier this month, Apple filed a lawsuit alleging that Sanho's products, many of which use the Apple's MagSafe power connector and its 30-pin dock connector, infringe on six of its patents.
Though MagSafe has been around since the introduction of the MacBook in 2006, Apple has never licensed the connector to third-parties, much to the chagrin of accessory makers everywhere. Instead, Sanho had to turn to the somewhat clever approach of actually buying up MagSafe power adapters and repurposing—read: cutting and splicing—the MagSafe connectors into their products, such as its HyperMac external batteries.
The 30-pin dock connector is also at issue in the case. While Apple does license the connector under its Made for iPod/iPhone/iPad programs, Sanho does not appear to be a licensee of any of those programs.
Apple may have a harder time in the case of the MagSafe connector, since, as Ars Technica points out, it's possible that the repurposing of the MagSafe connectors is covered by the doctrine of first sale, which limits Apple's rights to a product's usage after it's been legally purchased.
The suit, filed in the District Court for the Northern District of California, requests a trial by jury and the awarding of damages of an amount to be determined during the trial. But whether the matter goes to trial or the two parties settle out of court, the situation doesn't look particularly sunny for Sanho.
[via Apple Insider]