I love my Etymotic Research HF3 earphones; they deliver incredibly rich, detailed sound with excellent noise isolation. The only problem is that when they're snug in my ears, I can't hear anything that's happening around me, and as someone who walks around New York City a lot, this can make for potentially dangerous situations.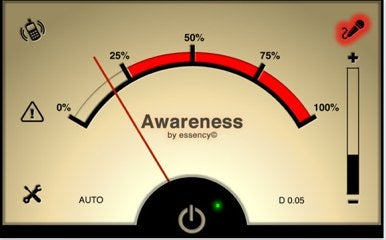 For people like me, Essency's Awareness app might be a godsend. The clever app takes advantage of the built-in microphone included with most iPhone-compatible headphones, listening to the sounds it picks up and relaying those sounds to your earbuds only when their loudness crosses a certain threshold. In other words, it lets you listen to your music and the noisier parts of the outside world at the same time. (There's a ducking feature that will quiet your music while you're listening to outside sounds, but it's optional.)
That doesn't mean you'll be stuck with the noisy rumbles of the subway blasting from the mic into your ears. The app automatically calibrates its threshold upon startup to only alert you of sounds when they are above the average level of your current location. So if you run the app while you're on the subway, it will acclimate itself to the rumble of the train, only relaying sound from your mic when it picks up louder noises, like the conductor announcing the next stop.
You can also set the threshold manually, as well as increase the level of the mic's input. If your headphones don't have a built-in microphone, Awareness can use your iPhone's microphone, but you'll need to keep your iPhone out of your pocket so it can pick up sounds.
A true iOS 4 multi-tasking app, Awareness runs in the background and will work while you play music, videos, or games. For people who routinely wear earphones or noise-canceling headphones, the ability to hear sirens, car horns, shouting, and other important sounds could be lifesaving.
Awareness, which costs $5, requires iOS 4.1 or later and will work on iPhone 3GS, iPhone 4, iPod Touch 4th generation, or iPod Touch 4th generation with a headset mic.
[Hat tip: Dan D via Arnold Kim.]