LaCie has announced the latest addition to its line of professional displays, the LaCie 324i. The new display features a 10-bit P-IPS LCD panel, and is ideally suited for prepress, illustration, web design, and photographic workflows.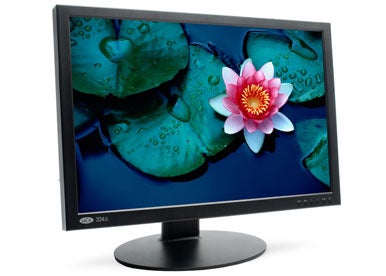 The LaCie 324i promises to deliver uniform and accurate colors thanks to its wide gamuts and backlight stabilization.
According to the company, the LaCie 324i P-IPS panel offers a realistic presentation without discoloration or pattern distortions.
With an impressive gamut spectrum, the LaCie 324i color is rated at 102 percent NTSC and 98 percent Adobe RGB.
Offering a 178 viewing angle, the LaCie 324i comes with an anti-glare panel, which should banish unwanted reflections often found on glossy monitors, including those offered by Apple.
With 24 inches of usable workspace and a native 1920×1200 resolution, the LaCie 324i can also be turned 90 degrees to use in Portrait mode.
In addition to its 1000:1 contrast ratio and backlight stabilization, the LaCie 324i can be further enhanced with the optional LaCie blue eye calibration tool.
The included software also provides prepress professionals with the option to enhance soft proofing accuracy using test and report features approved by UGRA (the Swiss Centre of Competence for Media and Printing Technology).
The LaCie 324i has four display and video inputs, use DisplayPort or DVI-D for connecting the monitor to a computer and HDMI or component for video sources. The 324i also has three USB 2.0 ports for a convenient USB hub, which includes a tidy cable manager.
The LaCie 324i comes with a 3-year Gold Protection Plan that includes a 3-year advance care warranty and has a suggested retail price of $1249.
LaCie also offers a video demo of the new monitor: