Have you ever tried adjusting the hue of an image? Doing so can dramatically alter the colors that appear in a picture, but when applied to an entire image, the results are often too extreme.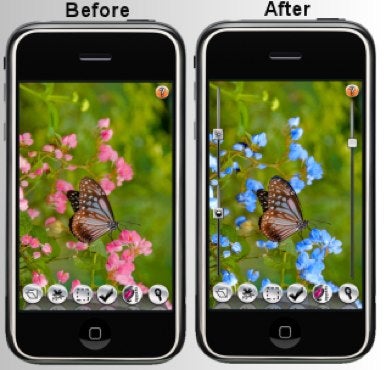 iHueSplash, by Emir F Samsuddin, is an iOS app that lets you change the hue of individual colors in a photo, allowing you to creatively alter items without ruining the entire image.
The $1 app offers a straightforward interface: just load your photo, tap a color on the photo that you'd like to change, and select a new one. You can fine-tune your hue changes by adjusting the intensity of the new color, and selecting specific areas you'd like to alter as well. When you're satisfied with your new image, you can save it to your Camera Roll or upload it straight to Facebook.
If you'd like more control over the colors of your photos, you can opt for the $3 pro version of iHueSplash, which lets you choose up to six colors at a time and alter each one individually. It also adds a "Splash More" feature which lets you quickly apply your changed colors and alter more right away, allowing for infinite 'splashes' during one editing session.
iHueSplash and iHueSplash Pro both require iOS 3.1.2 or later.