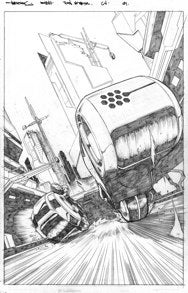 Are you ready to enter the grid? Disney is continuing its massive marketing campaign for its upcoming Tron: Legacy feature film with an update to its free Tron iOS app. The update includes video from the Tron Comic-Con panel, a sneak peek of an upcoming Tron graphic novel, and new video trailers.
The Tron app was released in July to promote the film's major presence at San Diego's Comic-Con later that month. Along with an updated version of the classic Tron Tank game and promotional videos, the app included hidden features that would be unlocked upon visiting Comic-Con.
Comic-Con has come and gone, and with this new update, fans will be treated to a three-part video series from the Comic-Con Tron panel. Also included in the update is a preview of the first 13 pages from the upcoming Tron: Betrayal graphic novel, and new video trailers for the Tron: Legacy film and Tron Evolution game.
This update ought to keep Tron fans content for a while, but Disney promises that more updates are on the way—most enticingly, a new take on the iconic Light Cycles game.
Tron requires iOS 3.0 or later.