The $1 America's Election HQ from Fox News Digital is a solidly informative news app—but it might be too shallow for serious political junkies.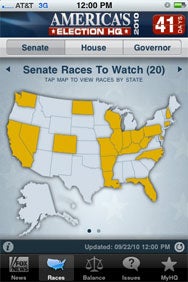 What America's Election HQ does well is give iPhone users an overview of the national political landscape, providing stories from races around the country as well as news and video about issues that will affect those races. And there's a handy countdown meter, showing how many days remain before the Nov. 2 midterm elections. Glenn Beck, however, is nowhere to be found.
The app isn't so good when it comes to drilling down into specific races across the country. Yes, it features "races to watch" in the U.S. House and Senate, but the race pages feature only brief candidate bios and sometimes-incomplete polling data. There is no updated news for those races, and no way to get a sense of the issues being debated at those local and statewide levels.
America's Election HQ features some of the usual bells and whistles—the ability to share stories and video via Facebook and Twitter, and you can mark stories for later reading. This is a good app for following the elections, just so long as you don't want to follow too closely.
[Joel Mathis is a freelance journalist and political columnist for Scripps Howard News Service. He lives in Philadelphia.]