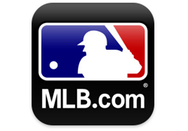 Hungry baseball fans won't have to brave long lines for food Friday night at Citizens Bank Park in Philadelphia—they'll be able to order cheesesteaks, hoagies, and more directly from their seats, using Major League Baseball's At Bat 2010 app on their iPhone.
"It's convenient, cool and quick," said Mike Harris, director of marketing and special projects for the Philadelphia Phillies. The service began trial runs on Monday, and is being officially unveiled during this weekend's homestand with the New York Mets.
MLB's popular app has long provided fans with coverage and highlights of games across the country. Starting this year, the league began providing services directly to fans at games, using the iPhone's geolocation abilities to let fans check-in to games and receive exclusive video highlights.
Citizens Bank Park holds about 45,000 fans—and about 1,500 use the app during each game, Harris said. The park recently received an extensive upgrade to its 3G antenna network, making it a natural location to try the food delivery pilot program. "The 3G coverage for the iPhone is arguably the best of any sports venue in America," Harris said.
Fans using the app will be able to order food from their seats by providing their seat location and a valid credit card over a secure network. Aramark, which provides food-vending services at Citizens Bank Park, will bring in four "runners," two cooks and a manager to keep up with the iPhone orders.
"This is an experiment," said Brian Hastings, Aramark's regional director. "Hopefully, next season we'll have a better understanding of what the fans want."
The pilot program is scheduled to run through the end of the regular season—although it could be extended if the Phillies make the playoffs. After the season, MLB will determine whether to roll the service out at other ballparks next year. Officials are optimistic.
"We believe the reaction will be overwhelming," Harris said. "Our fans will now have an opportunity to watch more of the game from their seats, while enjoying all the amenities the ballpark provides."
MLB At Bat 2010 is compatible with any iPhone or iPod touch running iOS 3.0 or later; until September 28, it's available for $7, down from its usual $15.