It's hard not to be fond of The Sims franchise: If you're anything like me, you grew up playing SimCity and its many derivatives (SimCity 2000, SimCity3000, etc.), and may even owe your entire understanding of civic engagement to that superlative computer game.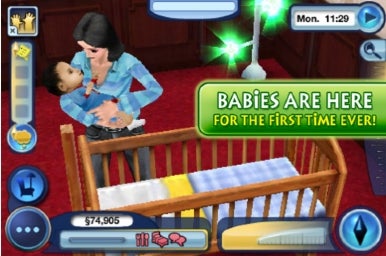 The Sims franchise was very at home on the desktop, making its smooth, graphic simplification for the iPhone a praiseworthy conversion. Since The Sims 3 debuted on the App Store last year, a flurry of expansion packs have popped up, the latest being The Sims 3: Ambitions, a stellar advance in the series. EA Mobile's new $5 game is definitely a good pick-up for those familiar with The Sims canon – it's addictive as any prior iteration. While it is by no means the pioneering, total re-conception of the game some hard-core fans may hope for, it does offer enough quality editions to make it worth adding to your bullpen.
It's hard not to notice how EA is admirably making its way toward that Sims makeover that will give mobile gamers an addictive game play experience to end all addictive game play experiences, but it has to be said: The Sims 3: Ambitions shows that we're not quite there. But first the good news: a handful of new career paths, mini-games, an embellished house-customization interface, and the opportunity to rear your very own Sims infant— all prove to be an excellent beginning to The Sims' mobile evolution.
Take the arrival of rock star and firefighter to the Sims career fold, for example, supplemented by new outfits and specialized mini games. These are all great advancements in overall Sims addictiveness, to be sure, with the mini-games taking the cake. Choosing the firefighter avatar (I named him "Ned," in case you were wondering), I was tasked with deployment to burning buildings, where I had to extinguish the flames in each burning window before time elapsed. Along with practicing my firefighting skills on a fire hydrant I purchased, I was able to gain promotions that made my Sim a happy dude. EA does need to work on the depth and continuity of the mini-games and your chosen career path, however: when choosing to be a professional athlete and embarking on a jogging career, I probably shouldn't be given a football-themed mini-game. Just sayin'.
The Sims' career options are not just limited to Axl Rose-wannabes and fire warriors, you can choose to be a chef, teacher, or professional athlete and, while earning promotions is as simple as showing up to work, upgrading skills, and success at fairly simple mini games. What's more, if your Sim is feeling romantic and happens to engage in a bit of the ole "WooHoo" (Sim-speak for "sex," obviously), you might welcome a baby into your Sim-life. Raising your Sim-spawn will take attention and diligence, proving that juggling child-rearing with career aspirations is nearly as difficult as it is in non-Sim-World. So, kudos to EA on this one – fans had been asking for Sim-babies for awhile now, and their wishes were answered.
The updates to Build Mode and the improved household customization system (which allows you to move furniture around more easily and adjust the layout of my home) are welcome. Though one thing I did notice is that, while it must now sound like there are plenty of things to keep your Sim occupied, there is a sense of loneliness and idleness to mobile Sim which isn't as apparent in desktop versions. Several times, I found my Sim killing time watching TV, just waiting around to be tired enough to sleep. Though a chosen personality trait may have been "friendly," my Sim still seemed uninterested in making friends, and I still can't understand why he wants to kick over that trash can all the time.
These quirks aside, all in all, playing The Sims 3: Ambitions will without a doubt be a pleasurable time sink for those who are new to the franchise, but for the diehards Sims fans out there, this game just feels like the game The Sims 3 should have been a year ago. The graphics are Sims-caliber, which is to say good, and the gameplay is mighty addictive, if not predictable as a Sims iteration. While we're not asking for a replication of the experience of playing The Sims on the desktop, we can still hope for a more perfect mobile Sims world, can we not?
[Rip Empson is a frequent contributor to Macworld.]