It's the end of the week, and you know what that means: another iPhone case round up! This week's new releases provide protection from scratches, impact, and even antsy children. So gather 'round the fire and let Uncle Dave regale you. [Disclaimer: Dave is not really an uncle, but if he were, he's certain he'd be the fun uncle—not the odd one who wears those creepy glasses and smells like cats.]
BodyGuardz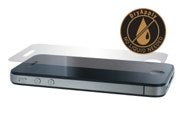 If your main concern is keeping your iPhone 4 free of scratches, rather than impact protection, BodyGuardz Dry Apply screen ($15) and full body ($25) protectors could be the key to keeping your iPhone 4 looking like new. The 8 millimeter-thick film is made of the same material used to shield the fronts of automobiles from abrasive elements, and it uses a special adhesive that dries quickly and won't leave a sticky residue when removed.
Griffin
If you've ever found yourself wishing for an iPhone case your kids could snuggle with, Griffin Technology's got you covered with the green, fuzzy Woogie ($20). The case-making heavyweight teamed up with Iceberg Kids to develop this stuffed, cuddly case that protects your iPhone while turning it into an interactive kids toy.
Incase
For you sporty types, Incase has released the Sports Armband Pro ($40), which features a lightweight, washable, neoprene design with reflective details and a removable Velcro tab for optional headphone-cord management. The breathable, adjustable armband provides comfort and a universal fit, while a clear cover gives you protected access to your iPhone's touch screen and home button.
Uncommon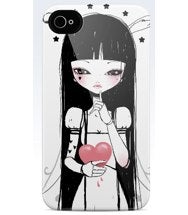 If you'd like a case that reflects your personal brand, Uncommon's iPhone 4 Deflector Case ($35) could get you there. The artsy case maker lets you upload your own artwork or select an image from its own gallery, which it then nicely prints (using a process called dye sublimation) on a slim fitting, snap-on case. Uncommon's Website offers some nifty tools for customizing your case design, and there's even an Uncommon iPhone app that lets you customize and order your case on-the-go.
Uniea
Uniea admits that it's a little late to enter the iPhone 4 case market, but there's a reason for that: the case maker had been researching a way to solve a discoloration problem it says many iPhone 4 users have experienced when taking flash photos with the device. The company claims to have solved this issue with a flash-optimized camera-lens cut-out that will be featured in Uniea's three U-Feel Actor iPhone 4 cases, which will debut in mid October. Unfortunately, pricing and photos are not yet available.
USB Fever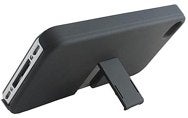 If you haven't noticed, an increasing number of iPhone 4 cases with built-in stands have been entering the market lately. The capability to prop up your iPhone for easy FaceTime chats and video viewing is an attractive prospect, and USB Fever is offering one of the least expensive cases we've seen that include this feature.
The company's $13 Rubberized Back Cover Case with Click Stand offers affordable, rubber protection with a small click stand that swivels out from the back of the case, letting you prop your iPhone up in landscape mode.