Weather HD and Weather Station Pro have very similar aims—to turn your iPad into a simple virtual "weather station" that tells you the basics about current and future weather conditions in any locations you choose, and to do it in a visually elegant fashion. Each succeeds in its own style—and if you decide to shell out a buck or two for either one of these neat pieces of weather eye candy, you probably won't be disappointed.
But be sure to check the screen shots provided for each product in the App Store before you decide which to buy. Each of these apps is easy to use, requiring you to input only the places you want forecasts for (besides your current location). Weather HD has an extra screen of display settings (Fahrenheit or centigrade, clock on or off, font size), while Weather Station Pro enables you to switch between metric and imperial measurements with a tap of the main temperature or wind-speed displays.
Both Weather HD and Weather Station Pro provide simple weather information, but there are some differences that will be important to some users. Weather HD tells you the wind direction and humidity, and provides three-hour forecasts for the next 24 hours. Weather Station Pro omits these and forecasts out only five days, compared to Weather HD's six-day forecast. On the other hand, Weather Station Pro tells you the time of sunrise and sunset, but Weather HD doesn't. (Note also that a future update to WeatherHD promises to add iPhone and iPod touch compatibility, making Weather HD a universal app.)
Both Vimov, the developer of Weather HD, and Toopia, which makes Weather Station Pro, get their data from Weather Underground, which has all kinds of detailed weather information and an iPhone-specific Website of its own.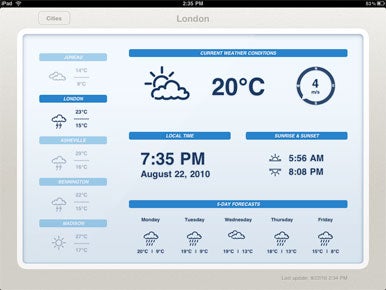 If such details don't matter much to you, the competition pretty much comes down to a straightforward beauty contest, with Weather Station Pro playing Mary Ann to Weather HD's Ginger. In other words, Weather Station Pro is mighty easy on the eyes, and your parents will approve. Weather HD provides an array of short and stunning video loops that put you in the cockpit, six-miles high and surrounded by the clouds or snow or rain or sunshine described prosaically elsewhere on the screen. It's the knockout app you'll want to show off to all of your friends.
[Jeff Merron is a freelance writer and editor living in North Carolina.]
This article was updated on September 25 to correct where Weather HD gets its weather information from. This correction did not affect the app's rating.