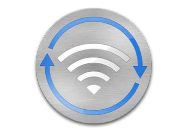 Nova Media has unveiled iHub Basic, an application for Mac OS X that lets you synchronize your contacts and calendars wirelessly between your iOS devices and your Macs.
The software doesn't require that you use iTunes. Instead, you select your existing OS X Address Book contacts (or groups of contacts) and iCal calendars, and the software syncs your contacts and appointments across any iPads, iPhones, and iPods touch on the same local network as your Mac.
Of course, using free services like Google Sync (which offers Microsoft Exchange ActiveSync technology), you can keep your address book and calendar synced even when your devices aren't sharing a single network. But iHub Basic works as a self-hosted background service, so if you don't want to have to go all the way to the cloud to sync your personal data, it's worth taking a look at.
iHub basic costs $30, and a free demo is available. It requires Mac OS X 10.5 Leopard or later, iOS 3.0 and higher for calendar syncing, and iOS 4.0 and higher for contacts syncing.