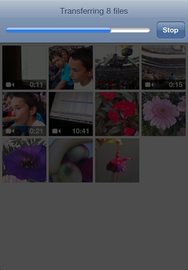 Galarina has expanded its PhotoToMac app, adding the ability to transfer videos wirelessly from your phone to your computer.
PhotoToMac 2.0, released this week, requires users to have their mobile device—an iPhone or an iPod Touch—on the same Wi-Fi network as a Mac running Mac OS 10.4 or higher. Users can select the computer from their iPhone, then push a "transfer" button to dump photos and videos directly to a selected folder. No wires, browsers or other intermediate equipment and software is needed.
The app also runs on the iPad in iPhone-compatibility mode and supports the transfer of JPEG photos imported via the iPad Camera Connection Kit.
A free version of PhotoToMac was also updated this week; only low-quality versions of videos and photos can be transferred from phone to computer using this version.
PhotoToMac costs $2 and requires any iPhone or iPod touch running iOS 3.1 or later.