If you're a longtime fan of Saturday Night Live, you might remember the lovable but abused claymation character, Mr. Bill. Known for his trademark cry of "oh noooo!", the unfortunate Mr. Bill met a hilariously grisly demise in almost every episode. Now, you can take control of the ill-fated clay character in Capcom's new Mr. Bill game for iOS.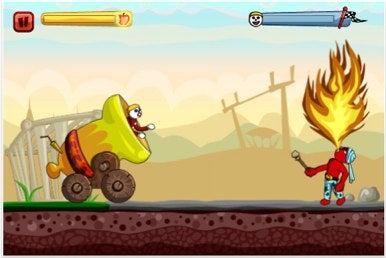 In the first part of the game, players attempt to guide Mr. Bill through his new job as a human cannonball for a circus that just happens to be run by his nemesis, Sluggo. The goal is to reach your destination by bouncing off trampolines, dangling from balloons, and even launching off a trained seal—all while avoiding various unpleasant obstacles.
If you survive through these levels, you'll earn a new job at Sluggo's farm, where more mayhem will undoubtedly ensue.
Mr. Bill includes a story mode as well as an endless mode, where your goal is to stay aloft for as long as possible after launching from the cannon. The game features simple, "pick up and play" controls, and players can unlock various achievements while they rack up their scores.
Mr. Bill costs $1 and runs on iOS 3.1 or later.