Making good on a promise it made in May, Virtual Programming delivered Supreme Commander 2, the epic sci-fi real-time strategy game, to the Mac.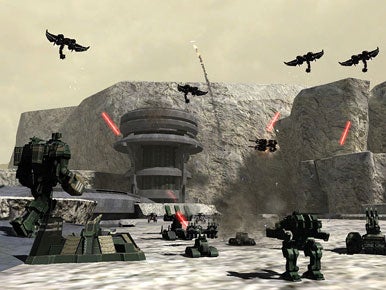 Released just this past March to the PC and Xbox 360, Gas Powered Games' Supreme Commander 2 is the sequel to 2007's well-received Supreme Commander. The new game is set in the far future, a place where three separate military factions have recently had their unlikely peace shattered when their Colonial Defense Coalition's newly-elected president is assassinated. The player once again takes control of either the United Earth Federation (UEF), the Aeon Illuminate, or the Cybran Nation in a quest for universal domination.
"We're honored to bring this highly anticipated game to the Mac mere months after its arrival for PC and Xbox 360," Virtual Programming CEO Mark Hinton said in announcing the game's arrival on the Mac. "We can't wait to follow the fate of the UEF, the Aeon Illuminate, and the Cybran Nation through Supreme Commander 2's 18 missions."
The game features 18 single-player campaign missions in addition to several modes including skirmish and multiplayer modes. You'll be able to battle on land, sea, and air with a diverse spectrum of units. Your strategies can be as varied and deep as you want them to be—not only can you upgrade different units, but instead of opting for a more conventional army can instead invest your resources in one of several deadly experimental units.
The $40 game—available through Virtual Programming's digital delivery service—requires an Intel-based Mac and runs on Mac OS X 10.6.3 or later. You'll need 1GB of RAM and 256MB of video memory as well as 5GB of hard drive space, an Internet Connection, and Steam for Mac.