Thanks to the concerted efforts of hardware manufacturers and software developers, the days when sharing printers over a network required patience, an intimate knowledge of operating systems, and the occasional voodoo incantation are largely over. Today's operating systems simplify the task of sharing printers over a network to the point where, in many cases, users are able to plug a printer into one computer and almost immediately print from another.
On the other hand, today's networks are becoming increasingly complex: it's not uncommon to find Macs alongside PCs and mobile devices, all connected to the same router—which may have printer-sharing capabilities of its own.
Depending on your configuration, therefore, making a printer available to all your devices can become a challenge, which is why we put together this handy guide to printer sharing for you.
Should you share?
Generally speaking, printers come in two varieties: tethered and networked. A tethered printer connects to one of your computers (typically through a USB cable) and only provides local printing capabilities; it's then up to the operating system that runs on the computer to which it is connected to make printing available over the network. This, of course, means that the printer is unavailable when the computer is off.
Networked printers, on the other hand, are standalone units that connect directly to your network, either through an Ethernet cable or using Wi-Fi. These work independently of any computer and, although they tend to be a little more expensive than their USB cousins, they can be more convenient in a busy household or in a business setting where several users need access to the same printer.
From the point of view of print sharing, the choice of one type of printer over the other depends largely on whether the additional cost of networked printers is worth the additional convenience.
Sharing from your Mac
If you choose to connect a USB printer to your Mac, sharing it with the other devices on your network is fairly simple. All you need to do is launch System Preferences, choose the Sharing panel (in the Internet & Wireless section), and make sure that the box next to the Printer Sharing service is checked. Once that's done, you can decide which printer to share, and even limit access to specific users. Thanks to the power of OS X, that's really all that's required to make a printer visible across your entire network.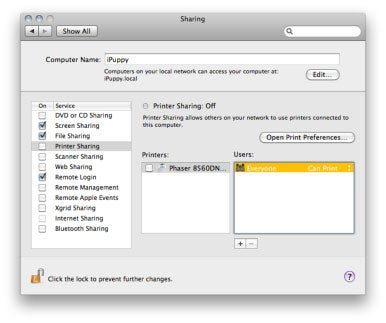 Sharing from your router
Most recent routers come with a built-in USB port that can be used to connect a printer to the network. In this configuration, the router acts as a host for the printer; this frees up a USB port on your computer and normally provides more convenience, since routers tend to be placed in central locations and are more likely to be on at all times.
The specific configuration procedure varies from router to router, although in most cases the process should be pretty painless. If you use one of Apple's Airport products—AirPort Extreme or AirPort Express for example—the router will automatically share the printer for you without any manual configuration. You can use the Airport Utility application (found in the Utilities folder of your Mac) to connect to your Airport router and obtain a list of printers connected to it.
The art of connecting
Once your printer is on the network, you will need to make the computers on the network aware that it exists. Once again, OS X makes this process very easy, thanks to a technology called Bonjour, which Apple developed for this purpose.
Bonjour works by making computers aware of the resources being shared on a network in a completely transparent way. This means that, when your printer is being shared by a Bonjour-capable device (like a Mac), every other Bonjour-enabled device on the network will be immediately aware of its existence—in fact, you won't even need to know that a given printer is connected to a specific computer.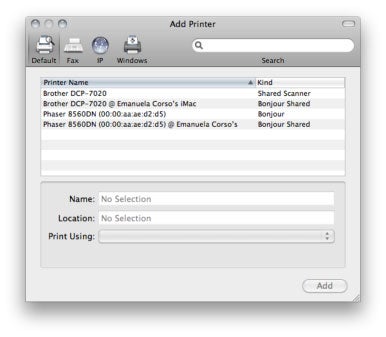 Bonjour is the default protocol used by all versions of OS X and by all Airport devices. A large number of networked printers come with built-in Bonjour support, which makes it really important to double-check that the model you're interested in buying is Mac-compatible.
To connect to a printer over the network using Bonjour, all you need to do is launch System Preferences and select the Print & Fax panel in the Hardware section. Clicking on the Plus (+) button on the left-hand side will bring up a separate Add Printer window, where you will find all the printers that are currently available on your network.
In most cases, you can just select a printer and click on the Add button; OS X will automatically detect the printer model, download and install all the necessary drivers, and install them for you alongside the printer—it's that simple!
If, for some reason, OS X can't find a driver, the best thing to do is to install it separately, using either the installation disc that came with the printer or by downloading it from the manufacturer's Website. Once you have the drivers you need, you can go back into the Print & Fax panel of System Preferences and try adding the printer again. The operating system should be able to detect the printer model and automatically select the right driver.
What about Windows?
If the printer you want to connect to is attached to a PC that runs Windows, connecting to it is a little more complex and fraught with a few potential pitfalls.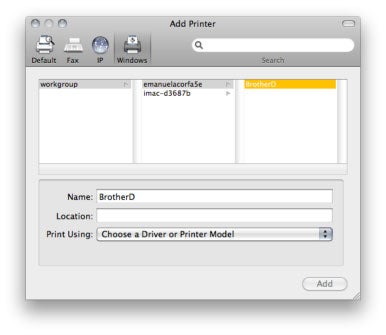 Initially, the process is fairly similar to the one used for Bonjour, except that, this time, you will want to select the Windows tab in the Add Printer window. This lets you find and browse Windows workgroups or domains that can be accessed from your Mac, where you will then be able to find computers and the printers they share. You may also need to log in to the remote computer if its owner has placed some restrictions over which accounts have access to it (if the printer is shared for everyone, you can simply choose Guest when the pop-up login window appears).
Unless the owner of the Windows computer that hosts the printer you want to use has downloaded and shared OS X drivers, however, it's likely that your Mac won't be able to automatically detect the printer's model, in which case you will have to select it manually from the Print Using drop-down list.
Unfortunately, this process does not always go smoothly. There are several scenarios in which OS X will be unable to connect—or even see—a Windows print share due to a variety of issues, such as the use of specific characters in its name, or even the length of the name. Luckily, Apple publishes a handy FAQ that provides a step-by-step guide to troubleshooting these problems.
Connecting from a PC
Despite its near-magic simplicity, Bonjour is and remains an Apple technology that is not available on Windows by default. This means that connecting a PC to a printer that has been shared from a Mac requires a few extra steps.
The easiest approach consists of installing Bonjour Print Services for Windows, a free utility that can be downloaded from Apple's website. This makes your PC Bonjour-capable and allows you to find and add shared printers without spending time learning arcane commands. Once Bonjour Print Services is installed, you can just go ahead and browse your network using an interface that, while Windows-specific, is very similar to the one available on your Mac.
If installing additional software on the PC is not an option, you can also connect directly from your Mac—in this case, you will need to gather a bit of information on the way the Windows machine is configured and use a slightly more manual method.
Printing from mobile devices
Using a shared printer from an iOS device is, unfortunately, more art than science, since Apple won't build native support for remote printing— called AirPrint—into its mobile operating system until November, when version 4.2 will be released to the public.
However, not all hope is lost: a number of enterprising app developers have come up with their own solutions that bridge this particular gap, though with varying degrees of success. Until AirPrint support is built into a large number of iOS apps—these ad-hoc applications are your best bet for printing from your iPhone, iPod touch, or iPad.
[Marco Tabini is a Web specialist based in Toronto.]
WorkForce 520 All-in-One Printer