Apple launched its iPhone 4 in China Saturday morning, attracting a massive crowd of people to one of the company's new stores in Beijing.
More than 1,000 people lined up outside Xidan Joy City shopping mall, where one of two new Apple stores opened in China Saturday. Some customers waited as long as two days to get their hands on one of the phones.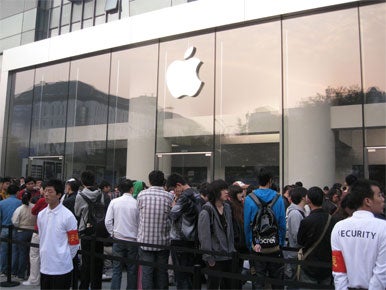 "Physically, it's been painful. But mentally, I'm very happy," said Yu Zhong Hui, 27, who was first in line. Yu began waiting outside the store two days ago at about 5 a.m. "When you want something, you have to pay a price. The price I paid is that everyone has had to see me wait out here."
Those who waited the longest were allowed to sleep overnight in the shopping mall's hallway. While they waited in line Saturday morning, a few draped blankets around their bodies as others played cards or took photos of the large crowd with their cell phones. But those in line said it was well worth it.
"It's like waiting in line to see a movie star," said 26-year-old Sun Jian Kuan, who is a systems engineer. "No phone can best the iPhone."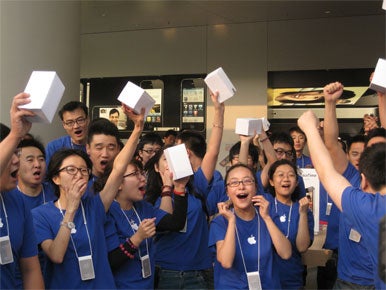 The launch of the iPhone 4 in China appears to have attracted more customers than Apple's release of its previous iPhone. Apple would offer no figures, but China Unicom, the mobile carrier for the device, has reported that 50,000 users signed up for an iPhone 4 on the first day of pre-orders. This beats the initial 5,000 devices that were sold through China Unicom in the first few days after the iPhone 3GS and 3G went on sale in China last year.
The iPhone 4 went on sale in China three months after it was launched in the U.S. Apple took more than two years to sell the iPhone 3G in China after its U.S. release.
Even as the iPhone 4 officially goes on sale in China, the device has already been available in the country's gray market, where products are bought from overseas markets and then resold by local vendors in China. But buying from such sellers is more of an inconvenience, since the phones must be unlocked and are not specifically designed for China, said some people in line for an official iPhone 4.
Apple has priced its iPhone 4 without a contract at 4,999 yuan ($US744) for the 16GB model and 5,999 yuan (US$893) for the 32GB model.
"I'm very happy, I've been waiting here for two nights," said Ma Ming, 23, who bought two iPhone 4s on Saturday morning. "All of these people are Apple fans," he said gesturing to the crowd of people outside the Apple Store. "It means that Apple has a lot of fans in China."
32GB iPhone 4 (GSM, AT&T)
Price When Reviewed:
$599
16GB iPhone 4 (GSM, AT&T)
Price When Reviewed:
$485