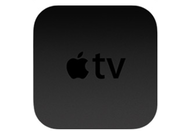 Internet reports of shipping delays for Apple's revamped Apple TV turned out to not be worth the virtual paper they were printed on. Customers who've ordered Apple's set-top box have begun receiving e-mail notifications that their devices are on the way.
Apple unveiled a sleeker Apple TV at the start of September, with Steve Jobs telling reporters at a Sept. 1 music event that the device would ship in four weeks' time.
Last week, however, some Internet sites reported that the Apple TV wouldn't arrive until mid-October, using an e-mail from Apple (and some flimsy logic) to make their case. The e-mail offered to refund expedited shipping for some Apple TV pre-orders—a not-unprecedented practice by Apple.
Cut to Monday, when early Apple TV adopters around the Internet, including several Macworld contributors, received e-mail confirmations that indeed their Apple TVs had shipped. One contributor's confirmation email promises delivery by October 1st, although FedEx's estimate actually predicts that the Apple TV will arrive one day sooner—on September 30.
The new Apple TV, you'll recall, is smaller, blacker, and hard drive-less compared to its predecessor, relying on renting and streaming to watch the TV shows and movies you crave. We'll have a detailed first look at the device as soon as it arrives in our office—on schedule, as it turns out.