Pocket Frogs by Nimblebit has hopped onto the iPhone successfully—the frogs are adorable, the game is free (with in-app purchases), and the gameplay is refreshingly fun.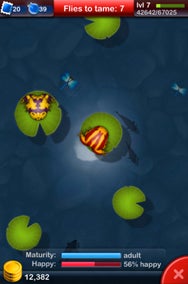 This is the first "freemium" iPhone game I've played where you can really experience the full game without shelling out $30 in in-app purchases. Pocket Frogs is a frog-breeding social networking game (using the Plus+ network). You start out with a couple of frogs, a "nursery" habitat, and a regular habitat. The goal of the game is to, well, breed frogs and see what kinds of cool combinations you can make. You can also sell your frogs for in-game coins, which you can use to buy upgrades (decorations and backgrounds for your habitats, frogs, and new habitats).
Breeding frogs is fairly simple—once you've tamed a frog by collecting dragonflies in the pond mini-game, all you have to do is jump on another frog and pay a nominal coin fee to breed with it. You can also breed frogs in your habitats by clicking on a frog and then clicking "breed". Baby frogs will start out as eggs in the nursery and then grow up over a couple of hours. If you want to speed up this process, you can use a growth potion to grow your frog instantly. You can also wait until it hatches and then hasten the growing process by taking it into the pond to catch dragonflies.
The pond mini-game is a welcome change for these Farmville-esque games—it gives you something to do instead of just waiting around to play the game. In the pond you can tame your frog by catching flies, as well as find frogs to breed with, and find gifts—anything from new backgrounds, new frogs, and coins to growth potions and stamps. Gifts that are not coins will be sent to your mailbox and will arrive over the course of a few hours. You can speed up this process by using a stamp (or a few stamps) to get a package to arrive immediately.
XP can be earned in a variety of ways—you can gain XP by breeding and taming your frogs, or by completing challenges. There are about 60 challenges that range from finding gifts in the pond mini-game to collecting certain breeds. A lot of the challenges involve particular breeds of frogs, so they force you to get creative with your breeding.
Like a lot of games similar to Pocket Frogs, the price of speeding things up is real money—stamps and growth potions can be bought as an in-app purchase. However, unlike a lot of games similar to Pocket Frogs, I found the in-app purchases to be unnecessary—you readily receive stamps and growth potions as gifts in the pond, and you can even grow your frogs rapidly without a growth potion.
Pocket Frogs looks like it will be a fun game—certainly moreso than social networking games that make you wait around forever. The only issue I had was with the Plus+ network—I have no friends on the Plus+ network, and the Facebook connect didn't work. Pocket Frogs is otherwise a winner—it's the first social networking game where you actually get to do something.
[Sarah Jacobsson is a frequent contributor to Macworld.]