Travelers who need help getting organized can now get an assist from their iPad with Monday's update to Quinn Genzel's Packing Pro app, which has become a fully universal app.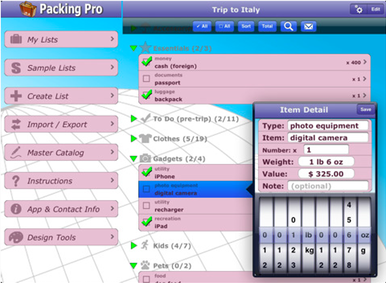 Packing Pro 5.0 comes optimized for the iPad with a full-screen layout redesign, iPad-specialized controls, a re-sized keyboard for easier text entry, and text and graphics modified for iPad screen resolution. In addition, the developer has made improvements across the app, simplifying the wording on the home page, adding a preview-before-save capability, and eliminating some bugs.
The app lets travelers prepare for trips by offering them customizable lists and templates of items they'll need to carry, including clothes, money and other accessories. It comes with a "Master Catalog" of more than 800 items to choose, along with weight and value calculators for checked bags on airline flights.
Packing Pro 5.0 is now on sale for $3, 25 percent off its usual price; it requires any iPhone, iPod touch, or iPad running iOS 3.0 or later.