Microsoft has rolled out an update to its Bing app, gracing it with a new travel feature, a "nearby" feature, and some map enhancements.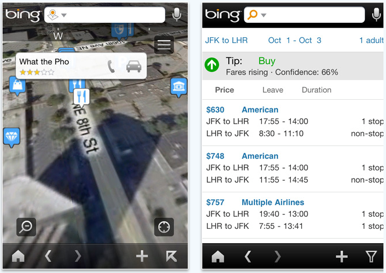 The Bing app is Microsoft's answer to the search-friendly Google Mobile App. Bing offers voice activated search, maps and directions, and a few other tricks meant to help iOS users get the information they need.
New in version 1.3 of Bing is a flight and travel deals search engine that predicts whether travel prices for your destination will increase or decrease in the near future. The "nearby" feature lets you know about hot places near your location by employing the iPhone's geo-location capabilities. Bing's map feature has also been enhanced with new pop ups that display over the maps, providing info on traffic, business listings, and more. Finally, Microsoft added neighborhood labels to make it easier to find certain locations.
Bing is a free app that runs on iOS 3.0 or later.