This simultaneous, cross-platform release of Photoshop Elements 9 marks a first for Mac users—the Adobe Elements 9 Organizer is finally available for Mac users and comes packaged with the hobbyist-targeted photo-editing software. Windows users have long touted the Organizer's photo-management and -tagging prowess, and now Mac owners can take advantage of its helpful features, including People Recognition, Smart Tags, and, now, Facebook integration. (The Organizer also comes packaged with Premiere Elements 9, which was just released for the first time ever on the Mac.)
A few other treats have been added to refreshed Photoshop Elements 9, including a real layer mask button, a Content-Aware Fill option for the Spot Healing brush (straight from Photoshop CS5), and a new PhotoMerge Style Match option for color and tonal matching.
Meet the Organizer
The big news with Photoshop Elements 9 is the addition of the Adobe Elements Organizer—a separate photo-management application. User feedback drove Adobe's decision to include the Organizer, previously available only in the Windows version, with the Mac version of Photoshop Elements 9 in lieu of Bridge. Given the application's simplistic interface and pared-down options (it lacks Bridge's pro-level batch-processing features), it's a logical switch considering the Elements audience is made up of consumers such as photo hobbyists and digital scrapbookers. (Don't panic upgraders, Bridge still works if you already have it or if you get it later on.)
The Orgaznier can be used with both image and movie files, and its tools are broken up into four clear sections: Organize, Fix, Create, and Share. There are a few PC-only features that haven't yet made the transition to the Mac version of the Organizer, including a slideshow-creation tool and the ability to use geotagging information to map images. But for the most part, the power is all here:

Importing The Elements Organizer makes creating photo albums, adding keyword tags, searching, and filtering your photos as painless as possible. It can pluck photos straight from your camera or card reader, find existing photos on your hard drive, and import from iPhoto into the Organizer catalog (because of the way iPhoto stores photos, the files are duplicated and a copy is placed in an Organizer catalog). It's possible to set up multiple catalogs in the Organizer if you want to keep your image library separated.
While importing, you can give photos custom names, save them into new or existing folders, assign copyright info, create new albums, and more. The easy-to-use interface lets you import some or all files, as well as delete photos from the originating device. The only caveat is that when importing multiple raw files, you'll experience a system slowdown for a couple of minutes as the Organizer saves multiple image preview sizes.
Smart Tags The Elements Organizer makes the chore of keyword tagging less painful. You can create tags yourself or choose from a slew of built-in categories; either way, applying a keyword is a drag-and-drop affair. Further simplifying the process are Adobe's Smart Tags. After you import photos by using the Elements Organizer, you can have the Auto-Analyzer engine assess image quality and contents. For example, it can tags photos as high, medium, or low quality. Additional Smart Tags are generated based on elements such as contrast, lighting, and common objects in the photos.
People Recognition The Organizer also has an algorithm that detects faces. Double-click a photo, and if the program detects a face, a box appears asking you who it is. Click the box and type a name. As you identify people, it collects the information and begins to suggest names for faces. When it collects enough data, it'll tag photos automatically and ask, "Is this [enter name]?" You can also ask the Organizer to scan through your photos and pick faces it doesn't yet know. Because the People Recognition feature uses the distance between eyes in the identification process, it has a tough time with sunglasses; however, it does remarkably well identifying the same person shot several years apart.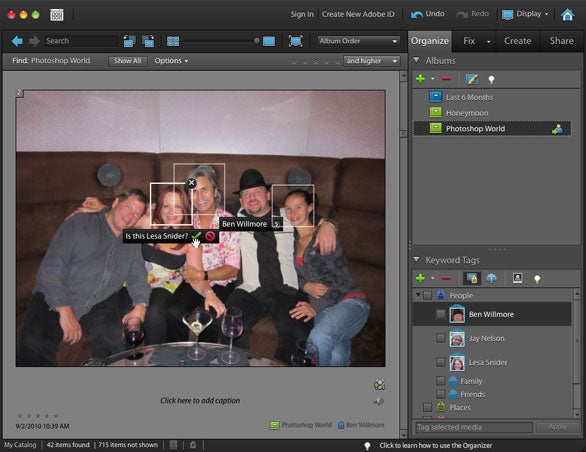 Make quick edits The application can do more than bring order to your images. In the Fix mode, there are a handful of edits that you can apply to individual or multiple photos, including color correction, cropping, sharpening, and red-eye removal. The Create mode, used to create photobooks, collages, and other products, is identical to the Create mode in the main Photoshop Elements app. In version 9, it has a simplified interface and several new themes, templates, and embellishments.
Share In the Elements Organizer's Share mode you'll find options for creating online photo albums on sites such as Photoshop.com, Flickr, SmugMug, Kodak EasyShare Gallery, and Facebook. The Organizer connects to your Facebook account and lets you pick between adding to an existing album or creating a new one on the fly (you can control the album's privacy, but helpfully it defaults to the Friends Only privacy setting). The Organizer also handles the image-upload and -resizing process for you.
If you choose to upload your files to Photoshop.com, you get a backup and synchronization feature. If you ever have to reinstall Elements, you can restore your entire image catalog at full resolution (up to 2GB with the free account; up to 20GB for $49 per year with the Plus account). You also get access to tips, tricks, tutorials, creative content, new themes, embellishments, and more. The syncing feature also works between multiple machines, meaning you don't have to worry about which computer has your photos because they all do.
Elements' editing enhancements
Back in the main application, Adobe has made some visual changes and added a few welcome new tools. A lot of work has been done fine-tuning the Photoshop Elements workspace, making it easier to read. The new interface uses bigger fonts, fewer colors, and higher contrast icons.
Layer Mask At the bottom of the Layer panel is an actual Layer Mask icon, which lets you easily hide layer content. The ability to add a real layer mask saves time and frustration, because the previous workaround involved a particular layer stacking order and using a Clipping Group. Layer masks are crucial for combining images, head-swapping, making text appear as if it is hidden behind an item in the background, and the like.
Content-Aware Fill The Spot Healing Brush now includes a Content-Aware Fill option for removing unwanted objects or other content from images. The Content-Aware Fill feature, taken from Photoshop CS5, works by looking at surrounding pixels and attempting to fill the area inside the brush with background content (it does an amazing job as long as the unwanted content isn't too close to something you want to keep).
PhotoMerge This technology is also summoned in the PhotoMerge Panorama feature, which all but eliminates the need for excessive cropping of assembled panoramas due to photo warping (a side effect of aligning photos). Turn on, "Would you like to fill in the edges of your panorama?", and Elements predicts what the missing info is and fills it in for you. Also new is the PhotoMerge Style Match feature, which lets you take the stylistic properties of one photo and apply them to another (think texture, color tone, and brightness).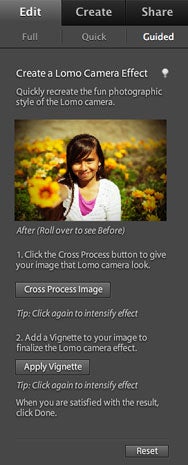 Guided edits If you're new to image editing, Photoshop Elements' Guided Edit mode shows you the specific tools you need to execute a certain edit, and gives you instructions on how to use them. New in this version are five Fun Edits, including an Out of Bounds effect. There's also Lomo Camera, which adds edge vignetting and a yellow-green tint to imitate the well-known toy camera's results. Pop Art creates an Andy Warhol-type serigraph; Reflection adds a lake that wasn't there; and Perfect Portrait walks you through skin smoothing, eye and teeth brightening, and blemish zapping.
When you finish a Guided Edit and go back to the Full Edit mode, you'll see that Elements has duplicated your original layer, added Adjustment layers as necessary, and added an editable layer mask, all of which can be tweaked. This is nondestructive editing at its best, and a great way to learn how to create similar effects on your own.
Macworld buying advice
As updates go, this one's a biggy and Adobe's new cross-platform strategy for both Photoshop Elements, Photoshop Organizer, and Premiere Elements is a breath of fresh air. The layer mask button alone makes this a worthwhile upgrade for frequent users, and the new Guided Edit modes make it a good choice for new users. If you've got a Ben Franklin to spare, Elements 9 is a great place to spend it. Photoshop Elements 9 works on Intel Macs running OS 10.5.8 or later.
[Lesa Snider, chief evangelist of iStockphoto.com, is the author of Photoshop CS5: The Missing Manual (Pogue Press/O'Reilly) and the Kelby Training video titles Photoshop Elements 8 for Digital Photographers and Practical Photoshop Elements. Her Website is graphicreporter.com.]