Editor's Note: This story is excerpted from Computerworld. For more Mac coverage, visit Computerworld's Macintosh Knowledge Center.
Research in Motion (RIM) unveiled an "enterprise-ready" 7-inch touchscreen BlackBerry Playbook tablet on Monday that features front and rear high-definition cameras, a dual-core 1 GHz processor and a new BlackBerry Tablet OS.
The PlayBook, due out early next year in the U.S., is less than half an inch thick and weighs less than a pound. It runs a new operating system developed by QNX Software that supports symmetric multiprocessing with use of the QNX Neutrino microkernel architecture. QNX builds software that powers computing for core Internet routers and even vehicles, including those from GM, Nissan and Land Rover, officials said.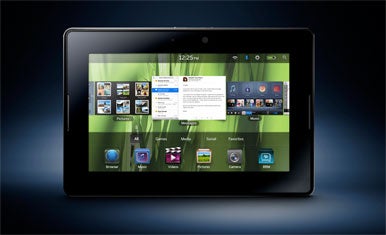 RIM officials at the BlackBerry DevCon 2010 in San Francisco unveiled the device for developers on hand for the event. The announcement was also Webcast live.
Some reports before the announcement had speculated that the device would be called BlackPad and provide competition for the 9.7-inch touchscreen iPad released by Apple in April. More likely, it will compete with the Cisco Cius device, which is focused on enterprises.
RIM Co-CEO Mike Lazarides said the PlayBook is "enterprise ready" because it is compatible with 250,000 BlackBerry Enterprise Servers deployed mainly in larger corporations to provide IT shops with more control and security. It will be available in the U.S. with a software development kit for third-party developers that is expected to be released in the next few weeks. Developers can register at www.blackberry.com/developers/tabletos.
The PlayBook supports Wi-Fi and Bluetooth and RIM "intends" to offer cellular-capable versions in the future, the company said in a statement.
The Bluetooth feature might offer another enterprise-ready capability, since it will allow a user to pair a BlackBerry smartphone with the PlayBook, using the larger tablet display to securely view any e-mail or document stored on the smartphone. When connected over Bluetooth, the smartphone content is viewable on the tablet, but the data remains on the phone and is only temporarily cached on the tablet, subject to what an IT shop decides.
Multimedia support is rich, including a 1024-by-600-pixel touchscreen and high-definition video playback in 1080p. Adobe Flash Player 10.1 and HTML 5 are both supported for Web browsing.