On the heels of shipping its new Apple TV, Apple has released a major upgrade to Remote, its iPhone app for controlling iTunes and Apple TV.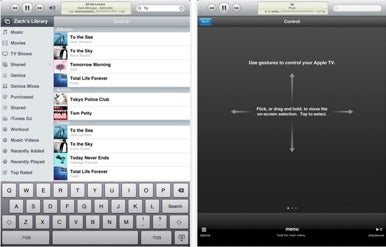 Remote 2.0 brings a handful of big features, not the least of which is a long-awaited interface designed for the iPad. Using the iPad's large amount of screen real estate, Remote can offer an interface for controlling media over one's home network that looks much like the tablet's iPod app, complete with music album and video thumbnails and a complete list of your playlists. It also features a gestures tab for controlling an Apple TV with iOS-like flick and drag motions.
The new app also supports Home Sharing, an easier method for sharing and streaming your media that Apple introduced in iTunes 9. If you enable Home Sharing in Remote 2.0 on your iPhone or iPad, it will automatically discover and let you control shared libraries on your network from a Mac or PC running iTunes, or a new Apple TV.
Remote 2.0 also gained high-res graphics for the iPhone 4's Retina display, multitasking support under iOS 4, support for iTunes 10 (including a new icon similar to iTunes 10's), and a round of bug fixes. It is available now for free in the App Store and requires an iPhone, iPod touch, or iPad running iOS 3.1.2 or later.