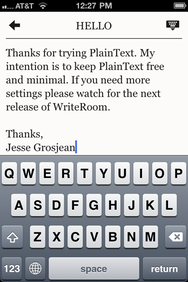 Looking for some Dropbox-powered text-editing action but not quite ready to shell out for an app like Second Gear's Elements? PlainText from Hog Bay Software is an ad-supported, slimmed down alternative that sports the same sync features in a simple, spartan interface.
A universal app with support for both the iPad and iPhone, PlainText lets you create text documents and folders that can be synced with your Dropbox account or transferred via iTunes. The black-and-white interface is stark but handy for focusing on your work itself; on the iPad version, you can expand your document to fill the full screen. There's also support for Smile's TextExpander shortcut-expanding software to ease trying typing.
PlainText is deliberately intended to be focused on the syncing of plain text documents. For those more interested in the writing experience, Hog Bay also produces the more featureful Write Room.
While PlainText is a free download from the App Store, it relies on ads served from Apple's iAd program. A $5 in-app purchase option to remove the ads is currently awaiting approval from Apple and should be available soon. The app runs on any iPhone, iPod touch, or iPad running iOS 3.0 or later.