The App Store description of the $1 Info Junkie from Steve Parker invites consumers to "imagine 75 news, gossip, sports & tech sites in one app!" That's easy to do: the app is called Safari, and it already comes free on your iPhone and iPod touch.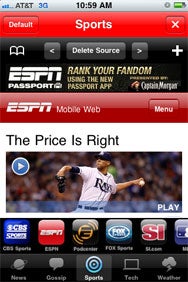 Not that Info Junkie is useless. If you are an information junkie, it's nice to have an app that comes pre-loaded with bookmarks for all the major news sites in America. The scrolling display of mobile Website icons along the bottom of the page is a great, user-friendly way to see those bookmarks, and Info Junkie is flexible, letting you easily add or delete sites from the list.
But the app's navigation is problematic. A Delete button sits right between the forward and back keys at the top of the page, making it too easy for a user to accidentally eliminate a Website from the app. And opening a new site—or a page within a site—seems a half-step slower than using Safari.
The flaws wouldn't be that important if Info Junkie provided a service you can't already get on your iPhone. It doesn't. Save your dollar and stick to Safari.
[Joel Mathis is a freelance journalist and political columnist for Scripps Howard News Service. He lives in Philadelphia.]