China Unicom has sold close to 100,000 iPhone 4s in the four days since the device was launched in China.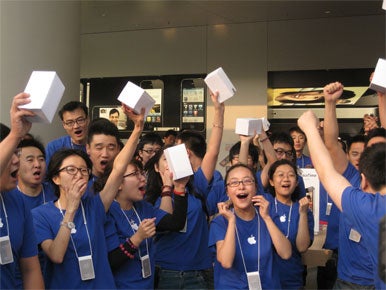 China Unicom, which is the mobile carrier for the iPhone 4 in China, has basically sold out of its first shipment of the device, company vice president Li Gang told reporters on Tuesday. Earlier in the week, the mobile carrier reported that 200,000 users had pre-ordered the product. China Unicom has already stopped online reservations for iPhone 4, and is instead asking users to come directly to retail stores to sign up for the device.
The massive demand for the product outpaces last year's official launch of the iPhone 3G and 3GS in China. During that period, it had taken over a month before China Unicom had announced it sold 100,000 iPhone units.
The iPhone 4 was officially launched in China last Saturday, with the popularityof the device causing retail outlets in the country to sell out of the product.
Apple has said more iPhone 4s will be made available in China soon and that customers should check back with their local store for updates. China Unicom expects the second shipment of the iPhone 4 to arrive in China Oct. 1, during the country's National Day Holiday, Li added.
The high sales figures for the iPhone 4 come as China Unicom reports it now has 10 million 3G users.
More people in China want to buy smartphones, especially the iPhone, because of all the media attention it has received said Liu Liang, an analyst with consulting group iResearch.
"The level of smartphone usage is hitting a new level in China," he said. "A lot of users no longer want to use these older phones with few features and instead want to buy the latest models like the iPhone."
Before the iPhone 4 went on sale in China, Apple held a 7.1 share of the Chinese smartphone market, according to Beijing-based research firm Analysys International. The company ranks fifth behind cellphone makers Nokia, Samsung, Motorola and Sony Ericsson.
32GB iPhone 4 (GSM, AT&T)
16GB iPhone 4 (GSM, AT&T)