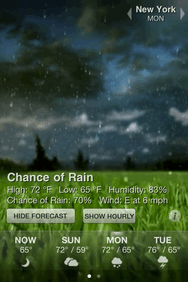 Weather HD, the popular weather- and forecast-monitoring iPad app from Vimov LLC, is now available for the iPhone as well.
Instead of relying on icons, the app uses high-definition video clips to reflect the weather. The new iPhone version of the app incorporates all those videos, scaled down to fit the smaller screen. Weather HD shows the current temperature and weather conditions as well as forecasts, and it lets you swipe between multiple cities if you're the kind of person who tracks weather around the globe.
The iPhone version of the app is optimized for the iPhone 4's Retina display. And since the app is universal, folks who already own the iPad edition can freely install it on their iPhones, too.
Weather HD costs $1 and requires an iPhone, iPod touch, or iPad running iOS 3.2 or higher.