For finding out the weather across the country or across the street, Weather Underground's free WunderMap proves to be an excellent addition to your iPad. The app provides all kinds of detailed weather information from live feeds, including wind and air conditions, severe weather alerts, webcams, and even an animated radar/satellite time lapse. Its interface fits seamlessly over Google Maps, offering a comfortable balance between simplicity and functionality that makes WunderMap useful for both casual and advanced users.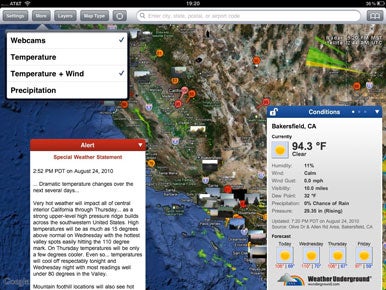 WunderMap doesn't have any more features than it needs. Select a location via the search bar, point and zoom in the crosshairs (at any range from global view to Street View), tap the My Location button, or just choose a spot from your bookmarks. An unobtrusive panel window provides three pages of weather info that you can flip through, featuring detailed info about current conditions; today's conditions at three-hour intervals; and a two-week summary forecast.
The map itself is interactive and informative. WunderMap's simple menu allows you to enable and disable various overlays—such as precipitation, clouds, severe weather, webcams, temperature and wind—that all appear stacked but visible on the interactive map. One option even animates the radar graphics as they've changed over the course of the day. Since the app is powered by Google Maps, the menu also lets you switch between street, satellite, and hybrid views. The only thing missing here is an integrated itinerary, which would actually be quite a useful feature.
WunderMap is a great app for those who travel, pilot planes, surf, or just like to know whether to bring a jacket or umbrella. Its extensive information and user-friendly interface make it stand out among weather apps. And WunderMap provides tremendous value for a free download.
[Dunham Shalat is a writer and video editor in Los Angeles.]