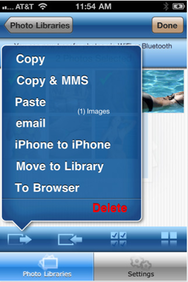 If you keep sensitive photos on your iOS device, it may be wise to use a photo encryption app that keeps unwanted users from viewing your images. One such app is Software Ops's My Eyes Only Photo, which uses password protected 256-bit RSA encryption to secure your photos on your iPhone, iPod Touch, or iPad.
The app has recently undergone a significant rewrite for version 2.1, an update that offers improved performance, reduced memory usage, and a new photo-sharing feature.
Along with keeping your photos safe from prying eyes, My Eyes Only Photo lets you zoom, browse, and view your encrypted photos just as you would in the standard Photos app.
For the version 2.1 update, much of the app has been rewritten to improve performance and stability, especially for devices running iOS 4. Though all users should notice increased performance, improvements for iOS 4 users include an a better photo selection interface, more stability when encrypting and decrypting photos, and more efficient memory management.
Also new in version 2.1 is the ability to import and export photos to another computer using Wi-Fi and a Web browser. Photos can also now be exported to another iOS device running My Eyes Only Photo via Wi-Fi or Bluetooth.
My Eyes Only Photo costs $4 and runs on iOS 3.1 or later.