Like so many Americans, Mr. Bill's family has fallen victim to the economic recession. Fortunately, the well-loved clay character from television's Saturday Night Live has his own iPhone game (courtesy of Capcom Mobile) where players guide him through a few (painful!) employment opportunities.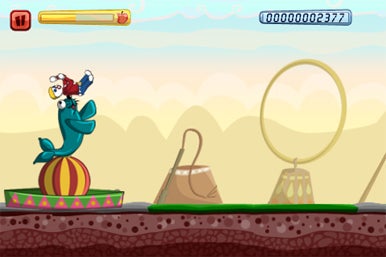 The first job Bill tries is at Mr. Sluggo's Big Top Circus—cue ominous music. Mr. Sluggo, of course, is the regular foil and tormenter of hapless Mr. Bill. So it's not surprising when Mr. Sluggo shoots Mr. Bill out of a cannon, charging our hero with completing various tasks while flying through the air. Touching and holding any point on the screen makes Bill flap his arms to fly upwards.
Of course, the injury-prone Mr. Bill is constantly at risk of dying. Flying trapeze artists knock him out of the air, fire-blowers send him up in flames, and hungry lions are eager to get a mouthful of clay. If you manage to avoid these occupational hazards, you just might reach the end of each level. Staying out of reach of danger, however, is not enough to complete the game. Flying requires a lot of energy, and Mr. Bill only has so much to get him through each round; when it runs out, he plummets to the ground and the level is failed (Ohhhh nooooooo!). Players must ration energy out carefully, and collect popcorn along the way to restore it. Certain circus acts will propel him forward without the use of any energy. Clowns, trained seals, and trampolines are all handy to land on when energy is running low. Falling or becoming eaten, stabbed, or aflame are by no means permanent in Sluggo's circus, and a "game over" screen means only that the round must be restarted.
If the Big Top isn't quite your cup of tea, players can also try their luck on Mr. Sluggo's farm. Mr. Sluggo, it seems, owns many ventures. At Sluggo's farm, though, the results are the same: Mr. Bill finds himself flying through the air and in constant peril. Instead of clowns, lions, and popcorn, Mr. Bill encounters scarecrows, tractors, and ears of corn. In both versions of the game, players are offered the choice of story or endless mode. In the former, a task is presented at the start of each scene (for instance, collect soda bottles, or scare the crows away). From there, players must flap, land, and dodge Mr. Bill to the end of the level. In endless mode, you try to stay alive as long as possible—endless mode is really just a game of beating your own high score.
The choice in game mode is one of the many reasons Mr. Bill is enjoyable to play. The changes in scenery and mode keep the game fresh and exciting, and the characters and settings are fun and animated. The game isn't hard enough that any levels are unbeatable, yet it's also not simple to the point of boring. My only complaint in playing Mr. Bill is that some of the controls seemed a bit wonky at times, like when I clearly landed on a trampoline—but Mr. Bill fell to his death anyways. Regardless, the app has found a permanent spot in my "Games" folder, and I look forward to the near-future update with a level that promises "zombie fun for Halloween".
[Stephanie Kent is an editorial intern for Macworld.]