For years, Mariner Software's MacJournal has offered a unique blend of writing, journaling, and blogging features for the Mac. The iPhone companion can pack your journals in your pocket, but the new MacJournal for iPad offers your mobile wordsmith a more capable writing environment while on-the-go.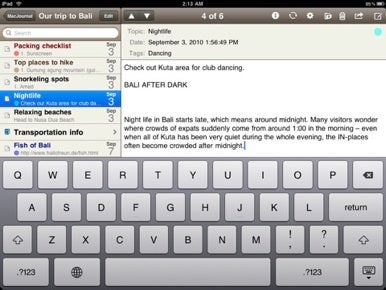 MacJournal brings most of the Mac version's key features to the iPad. You can create multiple journals, draft new entries, add metadata like tags and color labels, and publish to popular blogging platforms like Blogger, WordPress, LiveJournal, and MobileMe.
One of MacJournal for iPad's best features is Smart Journals, which allow you to organize and filter entries via myriad criteria, including name, label, tags, data, or body text. You can also search all entries and lock MacJournal with a passcode to keep out prying eyes.
In addition, MacJournal for iPad can sync journals and entries with the Mac version over Wi-Fi, just as the iPhone version can. You can sync all journals or pick specific journals if you prefer to keep some entries on certain devices.
Update: Dan Schimpf, MacJournal's developer, told me in an e-mail that he is now working on adding over-the-air sync via Dropbox to both the iPhone and iPad versions. There is no ETA for the feature, but "it's definitely going to happen."
I was able to help beta test MacJournal for iPad and I think the 1.0 shaped up quite well. I've penned almost every post, article, and interview I've done over the last four years in MacJournal on the Mac, and it's great to be able to get really mobile with all the features I need.
MacJournal for iPad is available for $6 now in the App Store, and it requires an iPad running iOS 3.2 or later.
Hat tip to Federico Viticci at MacStories about the release
Updated 10/1 7:19am with details on the upcoming Dropbox sync features.