Geotagging your photos—the process of adding GPS location data to the photo file itself—has a lot of fun, and practical, applications. Jindrich Sarson's Geotag Photos Pro allows you to use your iPhone's built-in GPS to store this location data, and add it to photos taken with another digital camera later.
There are a number of ways that having location data attached to photos can be helpful. If you use iPhoto or Aperture to store your images, you can take advantage of the Places feature that shows on a map where you took geotagged photos. That's an enjoyable way to view photos from your travels, and it can also be very practical if you're ever looking for a photo taken in a specific location. If you share your photos online with services like Flickr or Picasa, the images will be tagged with their location when they're uploaded.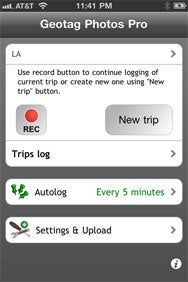 Geotag Photos works by running in the background, and keeping a log of your movement over a period of time. You need to make sure your camera's clock is synced with the clock on your phone (the app will prompt you to do so), so that the photos can later be matched by the time they were taken. When you launch Geotag Photos, you create and name a new trip and tap start when you're ready to begin. When you're done, tap the stop button to save your trip for later.
Two main settings determine the accuracy of the GPS log created: position change, and autolog timing. As you move, the app marks your movements. You can select a minimum distance (between 10 and 900 yards) that will trigger a new location being recorded. If you're in a city location, a small minimum postion helps for accuracy, and if you're in a state park, a much larger minimum may still work just as well.
Autologging will log your position at preset intervals ranging from every 30 seconds to once an hour. There is also an option to continuously log changes every time your position changes. The autologging runs in the background, and continuous background use of GPS location apps can quickly drain your battery. Finding a sweet spot between accuracy and battery usage depends on your environment. I set the app to autolog every five minutes on a few hour long photo walk around Los Angeles, and I was pleased with the accuracy of the GPS log created as well as the negligible battery drain.
The only difference between the $4 Geotag Photos Pro, and the free Geotag Photos Lite, is that the free version does not include auto logging. It does however, allow you to test it out for short periods of time. While you can theoretically tag your location manually every time with the Lite version, all it takes is a few times of forgetting on a long photo trip, and you've lost the accuracy you were expecting. The Lite version is a good way to get a feel for Geotag Photos, but if you're looking to really put the app to use, you'll need the Pro Version.
When your trip is complete, and you're ready to match up the photos, you upload your trip log from the app to the companion geotagphotos.net site. From there, you can download your trip as an industry-standard .gpx file, which you can then import into Aperture or other applications that support the .gpx format. You also have the option to open the trip in the free Java app that is part of the Geotag Photos site. This free companion app will actually write the GPS info onto the EXIF data on your photos, so when they are then opened in iPhoto, or sent to Flickr, the correct location info is already included.
Until recently, geotagging photos was much more complicated and required external equipment and camera adaptors. Geotag Photos harnesses the power of the iPhone's GPS to make this a simple process.
[Macworld contributor Beau Colburn lives in Boston. You can see many of his geotagged photos on Flickr.]