Video game rental service GameFly updated its GameCenter Games app, making it available on the iPad as well as the iPhone and iPod touch.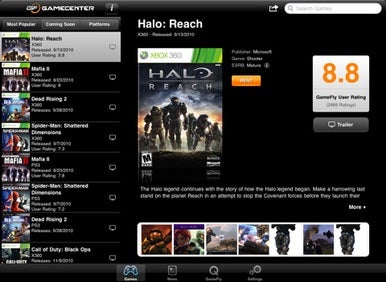 The newly universal GameCenter app includes improved search and browsing by genres, full-screen HD videos and the ability to share game information via Facebook and Twitter.
Not to be confused with iOS 4's Game Center feature—an Apple-built app and set of APIs designed to enhance multiplayer games on iOS devices—GameFly's GameCenter offers news and reviews for more than 8,000 video games, as well as videos, screen shots, release dates and cheats. GameCenter does not allow actual game play, but it does serve as a library for gaming information and lets users sort their "GameQ" to select which games they receive from GameFly.
GameCenter 1.2.7 is free and runs on all iPhones, iPod Touches and iPads running iOS 3.0 or later.