Apple has finally updated MobileMe Gallery, its app for browsing your friends' photographic masterpieces, with support for the iPad, iPhone 4, and iOS 4. The company also added a new screensaver-like feature for the iPad version and opened up use of the app to non-MobileMe members.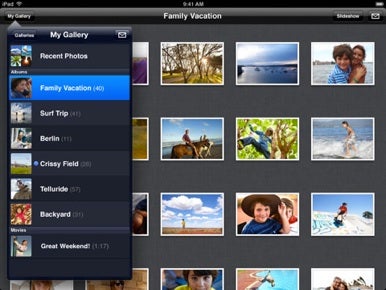 MobileMe Gallery 1.2 delivers an iPad interface, making it a universal app for all three iOS devices. It also supports multitasking under iOS 4 and has high-resolution graphics for the iPhone 4.
Apple also added a couple of new features in this version. First, it expanded the "recent photos" ticker area of the iPhone version into a full-blown photo frame feature for the iPad. When you sign into your account or add a friend's gallery, the entire app interface becomes two slowly rotating rows of the most recent photos.
Speaking of friends' galleries, the second new feature is that you no longer need to be a MobileMe member to use this app. You can either sign into your own account or tap a new "Add a friend" button at the login screen to browse through your MobileMe friends' galleries without signing up for the service.
MobileMe Gallery 1.2 is available for free now in the App Store, and it requires an iPhone, iPod touch, or iPad running iOS 3.1.3 or later.