This week's iPhone 4 case roundup is indicative of the centuries old conflict between man's technological progress and the natural world. The hand-crafted bamboo beauty from Grove takes sides with mother nature, but it is far outnumbered by the high-tech (and more affordable) offerings from the likes of NewerTech and SwitchEasy. So who will be the winner, plants or polycarbonate? You be the judge.
Beyza Cases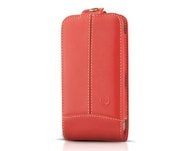 British-based Beyza Cases has released a staggering new line up of iPhone 4 cases that's simply too large to list here. The cases are aimed at the fashion-conscious professional and boast retro, leather/pleather designs. As such, you can expect to pay a bit extra for these chic accessories.
Case-Mate
Hopping on the ever-popular DIY case bandwagon is Case-Mate with its new iPhone 4 DIY case ($40). Using Case-Mate's "Do It Yourself" design option, you can create your own case by uploading a favorite photo, piece of art, or logo. Your uploaded image is then printed on a Case-Mate Hybrid Tough case, which incorporates form-fitting silicone and a hard plastic shell for durable impact protection.
Elago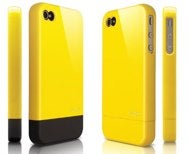 Elago's S4 Glide Case ($25) provides easy access to all buttons, controls and ports, while its polyurethane-coated exterior gives you grip and scratch protection.
Fusion of Ideas
Fusion of Ideas's StealthArmor line ($45) uses a thin layer of damage-resistant film that wraps around your phone, while a seamless bezel cover encompasses the frame of your phone for extra protection. The StealthArmor line is available in a wide variety of eye-catching styles.
Griffin Technology
Griffin and Adidas have teamed up to launch the miCoach Sport Armband ($30), an ultra-lightweight armband built for use with Adidas's new miCoach personal trainer app. The adjustable nylon strap wraps around your upper bicep, and a sweat-proof, touch-through screen cover protects your device while you use it. An inline pocket holds your house or gym key, and a strategically placed port accepts headphones.
Grove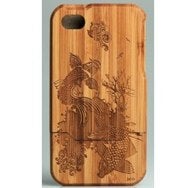 For those who want something truly different, Grove'shand-crafted bamboo cases bring the iPhone 4 case into the realm of artisan craftsmanship. The small Portland, Oregon company creates intricately designed cases made of bamboo and anodized aluminum with an ultrasuede liner to protect the case itself from scratching your iPhone.
You can choose between a plain bamboo finish ($69), an assortment of artist series laser-engraved designs ($89), or a custom option in which you upload your own design to be engraved ($89). For each option, you can also choose between natural or amber bamboo, and a stainless steel or black aluminum bezel.
iVogue
The ever-fashionable iVogue has added three new iPhone 4 cases to its collection this week. The Candy Series ($11) is a glossy, vibrant case that encloses your phone in a rigid, snap-on polycarbonate shell. The Aqua Series ($11) sports a sparkling color scheme with a raised water-droplet design that allows full access to all buttons and ports, and the Bold Series ($11) is a solid-colored case with transparent sides that slides securely over your phone.
Moleskine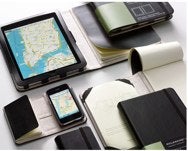 Moleskine, a company that has defied the march of technology by mostly selling quality paper notebooks, has finally embraced the digital age—albeit with an analog flair of its own. The company has announced new covers for the iPhone 3G/3GS and iPad that combine the pure simplicity of the paper notebook with a snug spot for your iOS device. A suede lining protects your device from impact and scratches, while a Volant notebook with plain pages gives you room to hash out your thoughts like you did in simpler times. Pricing and availability have not yet been announced.
NewerTech
NewerTech has released four different styles of NuGuard soft- and hard-shell cases and the NuVue anti-glare film.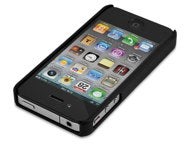 The Soft Silicone Protective Case ($15) is made of non-stick soft silicone that cushions and protects your iPhone; ergonomically designed side grooves offer improved grip and comfort. The Carbon Fiber Style Case ($25) sports a carbon fiber-inspired pattern and a low profile design that showcases the iPhone 4's unique aesthetics.
The Hard Shell Polycarbonate Case ($15) is a precision molded, transparent polycarbonate shell that offers more impact resistance than the acrylic shells while still maintaining its see-through appeal, and the Gel Protective Case ($15) offers the grip, feel, and flexibility of a silicone case, but provides the superior protection of a hard shell.
Finally, the NuVue Anti-Glare Screen & Back Protector ($13) is a multilayer, optical-grade film that reduces eye strain, improves viewing in bright-light settings, and decreases surface tension for easier gaming while providing complete front and back surface protection.
OtterBox
OtterBox's new Impact Series case ($20) for the iPhone 4 is made from compression-molded silicon and has an inner coring that dissipates impact away from your device. A spray coating on the inside and outside of the case enhances grip and feel, while a self-adhering screen protector protects your display from scratches.
SwitchEasy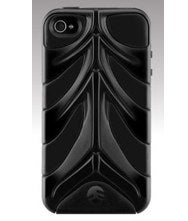 SwitchEasy's edgy CapsuleRebel ($28) case sports a head-turning design straight out of a sci-fi flick. The case utilizes the company's patented UltraFrame hard protection system, which combines a polycarbonate rigid exterior with a soft-but-tough polymer interior that should keep your phone safe from impact and scratches. As a bonus, the case comes with its own matching universal dock adapter.
For a more low key design, you can opt for the Trim ($20), which is made of scratch-resistant hydro polymer material fused with polycarbonate and comes bundled with a number of goodies, including two anti-static screen guards, two headphone jack protectors, and a video stand.
Ten One Design
Ten One Design has redesigned its iPhone 4 Pogo Stylus case ($15). The new model boasts anodized aluminum with subtle highlights and, as the name implies, includes a stylus that slides into a holster on the side of the case. It also features a travel clip that doubles as a stand for portrait or landscape viewing.