Fuze Meeting, the Web-based meeting and collaboration service that competes with the likes of GoToMeeting and WebEx, has posted a couple of tutorials on how to integrate Dropbox and SugarSync into your meetings.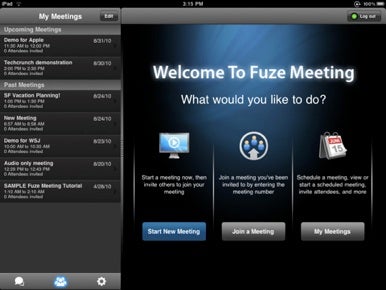 Fuze Meeting HD arrived on the iPad last week as a rich client for joining and interacting with meetings. You can view meeting notes and media, listen into calls, check back through meeting archives, and even host a meeting from your iPad. A few paid accounts allow for things like more Web and phone attendees, more file storage space, and recording meetings.
On Fuze Meeting's official blog, the company posted two quick video tutorials that demonstrate how to integrate Dropbox and SugarSync into a meeting. We've embedded the Dropbox tutorial below, but the cliff notes are that Fuze Meeting takes advantage of iOS's Document Sharing feature. While in the middle of a meeting, you can switch to Dropbox and select a relevant file, then use "Open in Fuze Meeting" from the action menu to automatically switch back and upload the file to share it with meeting attendees. This makes Fuze Meeting a more potent meeting tool and media hub for presentations.
The Fuze Meeting app is available for free in the App Store, requiring an iPad running iOS 3.2 or later. Fuze Meeting service prices vary, starting at $10 for a 24 hour period of unlimited meetings and $30 for a monthly subscription.