If you're a pet lover like me, one of your greatest fears is for your pet to have an unexpected illness or accident, and to have no idea how to respond. The people at Jive Media, the developer of Pet First Aid, understand this and have come to the rescue.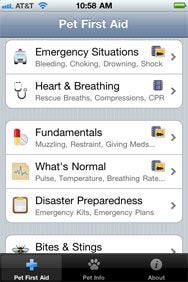 Pet First Aid is a $4 app which provides concise, useful information on actions to take in case of various accidents or illnesses that could befall your dog or cat. Granted, one could find similar data via the Internet, but if you consider how much time it would take to locate and organize this information, you will really appreciate having it categorized, condensed and cross-referenced in an app that can be accessed anywhere on an iPhone, iPod touch or iPad (though not natively on that last device), so that you can be prepared in case of an emergency.
The information, which includes both text and video, is organized well. You can tap on a subject and browse through it page by page, or you can tap at the top and view a table of contents, jumping directly to more specific info. When the app references one topic in another area, that text includes a link to the relevant section. That makes it easy to jump to that topic to read more.
Pet First Aid presents each topic concisely, using plain English that's easy to understand. (Unfortunately, the app doesn't support other languages.) The app also provides an area where you can record information about your pets, such as vaccinations, medications, allergies, vet info, and the like.
I have one minor gripe besides the English-only limitation: While the app runs on the iPad, it is not optimized for that device, as I noted above. For an app that displays most of its info via text, it would be nice to be able to use that extra screen real estate more effectively.
Those minor issues aside, if you love your pets, for less than the price of a pet toy, you can have a useful tool that might someday help save their lives.
[Brian Beam is a pet lover, web developer and partner with BOLD Internet Solutions, living somewhere near Kansas City.]