Goby is a clever little app that aims to help you find something to do, wherever you are (in the United States). The free app from Goby is impressively adept at offering up fun options in your area.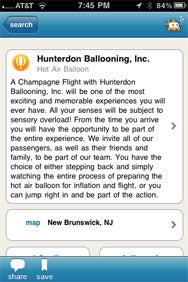 The app's home screen on the iPhone offers three main options. The first is labeled "Find cool stuff near me today." Tap that one, and the next screen asks you to choose from a category, like "Things To Do" or "Places to stay." I drilled down from "Things To Do" into "Adventure and Extreme" and then "Hot Air Balloon," and saw a pair of nearby places that offer precisely that aerial activity. You can resort the results alphabetically or by distance. There's also an option to filter results, to ensure that they're limited to a specific radius around your current location. If you find an activity you really love, you can bookmark it, which makes it easy to get back to later. The info screen for each result includes some combination of a description, link, address, and phone number.
The other two buttons on the iPhone version's home screen are "Make weekend plans" and "Explore a new location." "Make weekend plans" works the same way as the "Find cool stuff…" button, but unsurprisingly looks ahead to the weekend instead of the current day. "Explore a new location" lets you tell Goby to find events somewhere else, in the event you're traveling elsewhere.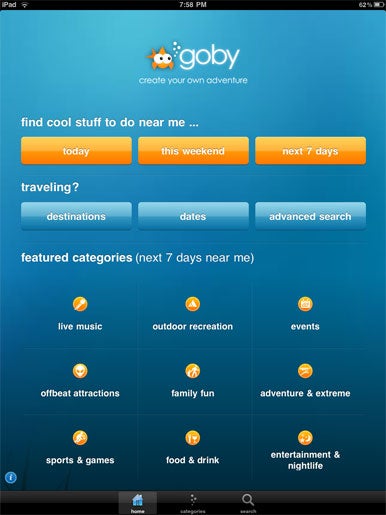 On the iPad, Goby offers a few more options on the home screen. You can choose whether to search for stuff to do today, this weekend, or over the next seven days, or you can drill right down into specific categories. The iPad version plots the fun things it finds on a map on one side of the screen, with the results themselves listed on the other side. It works well.
Goby can be a tease, though. I navigated down into "Entertainment and Nightlife" and then "Comedy," only to get an alert that there were no such nearby events. I'd much prefer if Goby didn't taunt me with categories for which it had no results to offer.
Both versions of the app work well; the iPad version the better of the two just because you can find results even more quickly. I encountered a random crash or two in my Goby testing on the iPhone, but nothing that I could recreate consistently.
Goby's free, and it helped me discover nearby fun places that I didn't even know existed. The app is as cute as it is simple, and I'm frankly amazed that the developer doesn't charge for it.
[If you're looking for something to do, you could spend some time checking out Lex Friedman's blog.]