The first BundleHunt debuted just this past August, aimed squarely at creative types and design professionals. It must have been a success, because BundleHunt is back with a vengeance, sporting a larger treasure chest worth four times the previous bundle.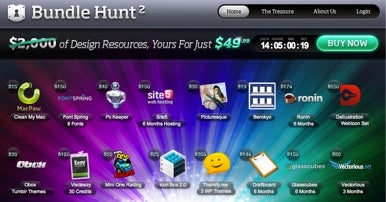 BundleHunt 2 features a variety of design apps and resources, including a license for Icon Box 2.0 and a six-month subscription to Ronin, a Web-based invoicing and time-tracking service. There are 16 items in this bundle (up from 12 in August), including Picturesque, premium Tumblr and WordPress themes, CleanMyMac, a six-month Draftboard subscription, and more.
Links are included at the BundleHunt site to try or learn about each included app or service. BundleHunt 2's total bounty is said to be worth $2000, but for the next two weeks, it can all be had for the recession-friendly price of $50.