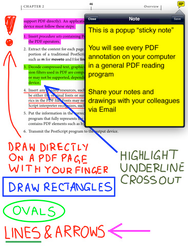 Both the iPhone and iPad versions of GoodReader underwent upgrades in the past week, adding the ability to annotate documents with notes, highlights, and drawings to the popular PDF-reading apps. The new features let users make "sticky note" comments, do freehand drawings on documents, and highlight or underline important text.
The upgraded app also lets users view and edit all notes and highlights that were previously saved to a PDF document. Another new feature lets users cut-and-paste text from PDFs onto their clipboard.
The new features in the 3.0 releases for both the iPhone and iPad versions of GoodReader add to an already-impressive app from Good.iWare. GoodReader supports most common document file types, while also allowing users to save and view Web pages (either in HTML or Safari webarchive format), and download, listen to, or view photos, audio, and video files.
Both versions of GoodReader cost $1 and require iOS 3.0 or later.