Last week, Google announced a new image format called WebP, which has the potential to replace JPG, the format used practically everywhere for sharing photos on the Web. On Thursday, the Pixelmator team plans to release an update for its namesake photo editor, which the company claims will make it the first to fully support Google's potentially game-changing new format.
If you don't obsessively follow the world of image formats, here are the cliff notes on WebP (pronounced "weppy"): The new format promises image file sizes that are up to 40 percent smaller than JPGs, and it's based on an open-source codec that Google released. What does that mean for regular surfers and amateur photo editors like you and me? Well, WebP offers a number of advantages, including faster downloads and a better mobile browsing experience. It also means lower hosting and bandwidth costs for virtually anyone running a Website. Of course, this is all under the assumption that WebP gains traction and broad support throughout the industry—image editors will need to support the format, but so will Web hosts and browser makers (Google's Chrome browser will add WebP compatibility in the coming weeks).
Industry support is exactly why this minor Pixelmator update could be a big deal, or at least the start of a trend, because the company claims that it will be the first to fully support WebP. Google can challenge the image format status quo all it wants, but WebP won't get very far until user interest builds and—more importantly—application developers bake in support.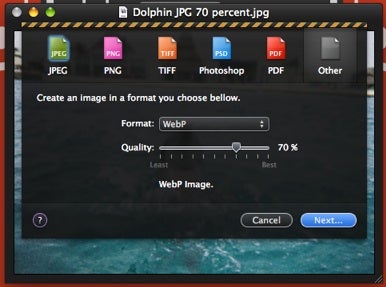 Pixelmator General Manager and primary interface designer Saulius Dailide gave Macworld an early version of the update to play with. WebP is now an option under File -> Export -> Other, complete with a user-friendly slider tool for deciding between quality and file size. In our brief testing, Pixelmator's WebP export produced images that looked about as good as their JPG counterparts, though smaller in file size. A high-res 1.2MB JPG, for example, became a 406KB JPG at 70 percent quality, but a 360KB WebP with the same settings. If you want more examples of WebP versus JPG, check out Google's comparison gallery.
Dailide says that Pixelmator 1.6.2 will be released on Thursday, as the company is wrapping up feature testing and finishing a Quick Look Finder plugin so users can preview WebP images. Ironically, however, Dailide says that WebP will not yet appear as an option in Pixelmator's official File -> Web Export tool, though users will be able to add it there with a simple Terminal command. Dailide says he wants to wait and see whether the demand builds from Pixelmator's users.