AT&T released a free update for its myWireless Mobile app, adding new features that make it easier to manage your mobile payments and edit your Wireless plan's features.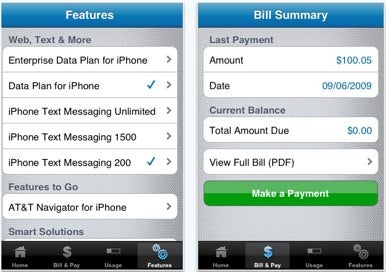 The myWireless Mobile app lets you view and pay your AT&T Wireless bills, track your voice minutes and data usage, and add or remove features to your wireless plan.
Now, with myWireless Mobile 1.5, you can enroll in AutoPay to set up recurring Wireless bill payments, or schedule monthly one-time-only Wireless bill payments—features that previously could only be activated through AT&T's Website.
Customers on shared AT&T plans can now manage shared features for Wireless rate plans, and users of AT&T's A-List unlimited calling feature can now edit their A-List numbers from the app. AT&T has also added a support section that includes a FAQ for Wireless bill payments, usage and features, as well as video tutorials that assist users on how to set up their phones for Wi-Fi access.
The myWireless Mobile app is free and runs on iOS 3.2 or later.