Since its release this summer, OmniFocus for iPad has won praise for its powerful to-do tracking and management features. But it's also been knocked as daunting to newcomers who have to get up to speed on OmniFocus's particular approach to task management.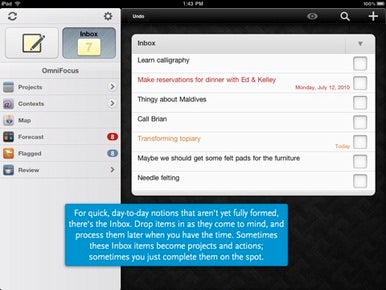 Enter OmniFocus for iPad 1.1, a new update to the $40 app, which delivers enhancements designed to improve workflow. Changes include a new sidebar Home button, revised due-date badges, smarter Map searching and other aesthetic refinements. Users had complained about the absence of an easy-to-find Home button, and the updated badges more clearly distinguish between tasks that are due soon and those that are overdue. The updated OmniFocus also saves edits even if you quit the app mid-revision, and it makes the "undo" command easier to locate.
The offering from The Omni Group helps users organize their tasks according to context, sorting priorities according to location and proximity to resources needed to accomplish the tasks. If you need to pick up a light bulb at the hardware store, for example, OmniFocus will push a reminder to you if you're picking up groceries at a nearby supermarket.
OmniFocus 1.1 is available for iPads running iOS 3.2 or later.