Pinch by Coatsink Software is a refreshingly original puzzle game in which your task is to slide colored discs called "norbs" through mazes to an objective. That sounds easy enough, but the mazes are filled with gates, barriers, and other obstacles requiring you to use your norbs very carefully.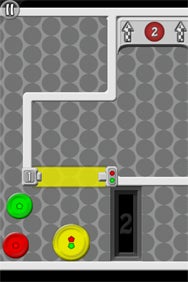 Pinch offers 72 included levels which begin with tutorial missions to get your started. The game is graphically simple and honestly not much to look at, but that doesn't mean it's not challenging and fun to play. In the tutorial missions, you'll learn how to navigate through the different obstacles and how to combine norbs to form larger ones. Combining norbs of different colors creates a single norb of a blended color. This is key to activating color-specific barriers. The levels increase in complexity and size with some of the latter ones covering as many as six iPhone screens. Pinch to resize and drag to scroll around the larger levels to get a lay of the land and plot your strategy.
Thanks to the tutorial levels, it is easy to get the basics mastered and breeze through the early levels. Soon you'll have to think though your moves in advance to ensure all your norbs make it safely to the goal. While each level is timed, there is no time limit. Moreover, you don't even have to successfully complete a level to move on to the next. Time thresholds and locked levels would have certainly provided more incentive to work your way through all the levels. If you're craving more levels, a level pack is available as an in-game purchase for $0.99. There is Game Center integration to track scores and achievements if your iOS device supports it and OpenFeint if it doesn't.
Pinch brings together many simple elements that when taken as a whole provides a very challenging puzzle game. Puzzle fans looking for something new should give this original game a try.
Pinch is compatible with any iPhone, or iPod touch or iPad with iOS 3.0 or later.
[James Savage is the host of the RetroMacCast a weekly podcast devoted to older Macintosh computers.]