When it comes to organizing ideas, different people follow different strategies. For some, that means a visual approach, in which they jot down their ideas on cards and physically arrange those cards to bring some measure of order to the chaos. That's the method favored by E-String Technologies with iCardSort. The free iPad brainstorming app relies on virtual cards and Post-It-style notes that you re-arrange on your tablet's screen.
Each of the app's card fits one or two lines of editable text, and you can order or organize them freely depending on your brainstorming style. You can save these idea flows—or "decks"—in the menu for later use. However, iCardSort allows only one saved deck at a time unless you pay $10 via an in-app purchase for the Multi Deck Pack. That add-on really is must if you want to get the most out of the app.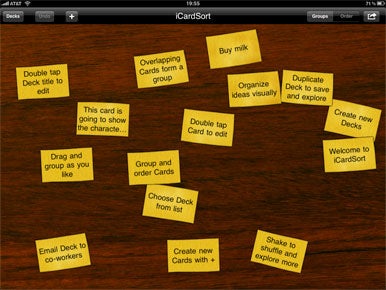 iCardSort is ideal for the person who sits at an empty desk with a pack of 3×5 index cards, scribbles a line on each and mixes them all around (but perhaps wants to save a tree or two). The shuffle feature lets you shake your iPad to scramble the ideas around the page to start with an organizational clean slate. When you're satisfied with a deck, you can share it via e-mail.
If you're looking for a visual organizational tool for basic ideas, and the $10 in-app purchase doesn't put you off, iCardSort is a great brainstorming option for the iPad. But the app won't appeal to users who demand more detail—one- or two-line notes may be far too limiting to let your ideas take flight. Good for basic brainstorming, iCardSort has a few too many limitations to be used as a serious, full-scale idea organizer.
[Dunham Shalat is a writer and video editor in Los Angeles.]