Fans of street fighting, zombie killing, and classic arcade-style gameplay will find plenty to like in the latest batch of iPhone app announcements from game maker Capcom. Later this fall, the Japanese developer will release updates to its popular Street Fighter offering while introducing its first Dead Rising title for the iOS. The developer also promises to unleash a new arcade app that will let players relive some of the glory days of coin-slotted machine gaming.
Street Fighter IV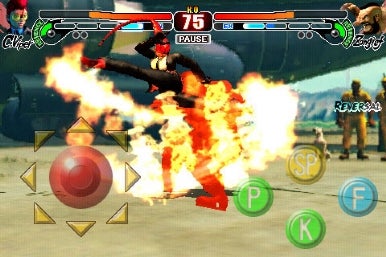 Street Fighter IV may have hit the iPhone and iPod touch in March, but Capcom hasn't rested on its laurels since then. So far, the company has released several free updates to the game, including adding new characters like fan favorite Cammy.
This fall, you'll be able to enjoy yet-to-be-revealed characters and a major upgrade to the game's multiplayer functionality. When a player who also has the game installed on his or her iOS device is nearby, Street Fighter IV will allow that player to challenge you while you're in single player mode. If this seems familiar, it's because the concept hearkens back to the days of Street Fighter in arcades; as players would advance through the singe player campaign, others could challenge them to multiplayer.
Additionally, Capcom is unveiling a "player card" system with this latest update. When fighting, you'll be able to see your opponent's win/loss stats, character preferences, and other vital stats.
Dead Rising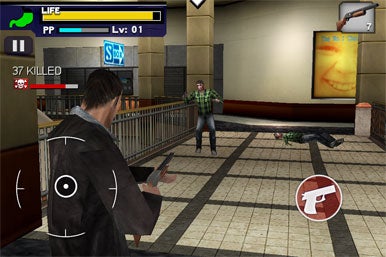 If you're an obsessive fan of zombies, shopping malls, or George Romero films, then you'll be pleased to hear you'll soon be able to get your undead-slaying hands on Dead Rising for the iPhone and iPod touch. Dead Rising Mobile will be a ground-up remake of the popular XBox third-person shooter.
Just as in the original console title, you can play as journalist Frank West as he tries to survive one week in a zombie-invested shopping center. The game's controls will allow you to throw objects at zombies, hit them with whatever you can pick up, or fight them off if they get too close.
The game also has a multiplayer component: if you end up dying during the single player campaign, you will be able to send out a distress signal via Facebook or Twitter. If your Zombie-killer friends hears your pleas, they can enter the game and help you out of your pickle. If they fail to keep you alive, you'll face a penalty the next time you enter the game; your friends will see an undead version of you (with your name hovering overhead) the next time they load the game.
Capcom hasn't announced a price for this app nor a release date.
The return of the arcade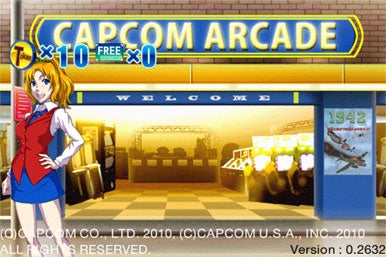 Capcom built its reputation in the golden age of arcade gaming. To satisfy the company's legions of nostalgic fans, Capcom will release a free arcade app for the iPhone and iPod touch.
When you first launch the app, you will see a series of old arcade coin-slotted machines. Each console will hold one classic Capcom game that you will be able play in its entirety. Capcom will issue you daily virtual tokens, which will allow you to play arcade games for a limited number of tries. Once you burn through your tokens, you'll have the option to buy additional tokens using real currency.
Four games will be available at launch—1942, Commando, Ghouls 'N Ghosts, and Street Fighter II. Every month, Capcom will release a new game to the app's arcade line-up. A debut date hasn't been announced.
The games won't just be stand-alone ports, either. The cartoonish arcade appears in an anime format with a character that keeps track of your stats and another that not only sells you tokens, but purchasable cheat codes and upgrades. For example, in Ghouls 'N Ghosts you can buy a cheat that will regenerate Arthur's armor. These codes may prove essential for some players who enjoy the old-school feel of the arcade games, but not the old-school difficulty.