Mercedes-Benz Financial announced Tuesday it will distribute iPads to all 355 dealerships in the United States, saying a summertime pilot program in 40 showrooms had proven "overwhelmingly positive."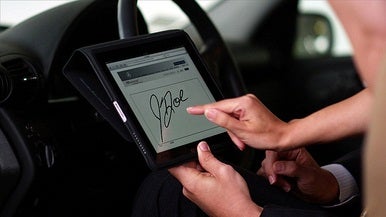 "We were surprised," Andreas Hinrichs, vice president of marketing for Mercedes-Benz Financial, told Macworld. "The feedback was so positive we said, we need to push this out to all the dealers and take the financing process to a new level."
Traditionally, car salesmen trying to close a deal have had to drag customers off the showroom floor and back to the office to fill out loan applications and other paperwork. During the pilot program, however, customers at the 40 dealerships completed forms on the iPad right next to the new cars. The company's goal was to minimize chances that customers would get cold feet during the final moments of the vehicle-buying process. Officials did not say if that goal had been met, but seemed encouraged by the results.
"It really is making for a more sophisticated (sales) process," Hinrichs said.
With wider distribution across dealerships, the company will also expand the use of iPads into the car-leasing process. Mercedes-Benz customers returning cars will now be able stand by and observe the post-lease inspection and odometer report, then sign the completed form in the iPad with their finger.
"This creates a lot of transparency for the dealership, a lot of flexibility for the dealer," Hinrichs said.
The company is distributing 3G-enabled versions of the device to dealers. Distribution should be complete by the end of October.